Top Stories:
IDPH Weekly Meeting Recap
COVID Test Positivity by County
COVID Relief Package Update
LeadingAge Virtual Lobby Day
Partners in Quality Virtual Visits Held with Reps Greenwood, Delgado
TANs Update
Vaccine Education Resources for Staff, Residents, and Families
Assisted Living:
LeadingAge Illinois, Argentum Advocate for Assisted Living Relief
LeadingAge Illinois Contact U.S. House Members on Paycheck Protection Program
Supportive Living:
Onsite Reviews
Nursing and Rehabilitation:
Updated Medicaid Rate List for Nursing Facilities
Independent Affordable/Subsidized Housing:
HUD Answers LeadingAge Member Questions on Service Coordination
Other:
Illinois Aging Services Network (ILASN)
Top Stories:
IDPH Weekly Meeting Recap
We continue to meet every Thursday afternoon with the Illinois Department of Public Health (IDPH) and other associations on COVID issues.  Here is a recap of what we learned from the Department in yesterday's meeting:
Vaccinations:
Jordan Hatcher from IDPH reported that the Department has enrolled six providers (five of which are pharmacies) who will now receive direct allocations of the vaccine starting March 15. They are located across the state. These new providers will not vaccinate independent living communities, even if they are on a CCRC campus. Independent living is just getting started. About 600 skilled nursing facilities are just coming off of the Pharmacy Partnership Program (PPP). IDPH encouraged CVS and Walgreens to offer first doses to CCRC independent living residents during the third clinics. Fourth clinics scheduled are for the large CCRCs.
The Johnson and Johnson vaccine will be available with no restrictions. Chicago will get their own direct shipments. More information is coming from IDPH on this vaccine.
I-CARE. Long Term Care Facilities (LTCF) need to review the CDC COVID Vaccine Provider Enrollment Form before considering enrolling in the Illinois Comprehensive Automated Immunization Registry Exchange (I-CARE). It is not required for LTCF to enroll in I-CARE. If you do not meet do other types of vaccines and you cannot meet the CDC requirements, you would not be enrolling in I-CARE. If you work with a pharmacy or have one of your own, that is the entity that would register for I-CARE. Those registered must be able to store the vaccine and they would then receive it directly.
For residents going out of the building, vaccinations do not change or impact the quarantine requirement at this point.
CMS Mandated Training:
The guidance does indicate caregivers must take the QSEP training.  IDPH at this point, does not require it for Essential Caregivers, but will discuss it internally and update us soon.   
IDPH Listening Session:
Alfonso Cano, bureau chief of long term care, is still planning a listening session with the associations on survey issues.  We have brought issues before the Department in these meetings and our quarterly meetings and the listening session will be another formal opportunity to address the Department using member input. LeadingAge recently prepared an article on the Top 10 Citations, that is an interesting read. 
Testing:
Surveyors. Facilities can ask a surveyor to undergo testing or answer screening questions. The facility cannot deny access if the surveyor refuses to undergo screening. However, if the surveyor appears to exhibit symptoms, you should contact the regional manager. Surveyors are being tested weekly at the beginning of their workweek, and have been since early January, 2021.
BinaxNOW. Local health departments will provide the free BinaxNOW cards until the end of 2021.
COVID Test Positivity by County
LeadingAge Illinois Consultant, Matt Werner of Werner Consulting, has provided his most recent update on COVID Test Positivity by County.  Click here for the most recent report. 
COVID Relief Package Update
The U.S. Senate voted to advance to debate on the American Rescue Package by a vote of 51-50 (the tie was broken by Vice President Harris). The entire bill is being read aloud which will be followed by debate of up to 20 hours and then voting. The Senate may vote on the bill tomorrow. The House will then have to take up the package again since changes were made from their passed version. This is anticipated to happen on Monday but may vary based on the Senate's timing. The current text under consideration can be found here and a very high level summary can be found here.
LeadingAge Virtual Lobby Day
Wednesday, April 21, 2021
Every year LeadingAge members have the opportunity to visit with their lawmakers on Capitol Hill during their Lobby Day.  This year with a new administration and critical policies needing member input, now is the time to share your story and help advance the LeadingAge legislative priorities.  Join us for our virtual Lobby Day on Wednesday, April 21.
Lobby Day Prep Meeting:
Wednesday, April 14  2:00-3:00 p.m. CST (1 week prior to lobby day). LeadingAge will make it easy with materials and scripts to help your meetings be a success.
Agenda:
Carol Silver Elliott, LeadingAge chair, Opening remarks
Joe Franco and Stephanie Vance from Advocacy Associates for issue overview and what to know before you go
Katie Smith Sloan, LeadingAge CEO: Closing Remarks
Open Office Hours:
April 16 and 19 from 1:00-2:00 p.m. CST
Meet with LeadingAge staff to answer any questions about our legislative issues and your individual congressional meetings.
Individual State Caucus Meetings:
April 15-20, 2021 
LeadingAge state partners will have the opportunity to host state specific planning meetings leading up to our Lobby Day. More information will come for your LeadingAge Illinois.
LeadingAge Lobby Day:  
Wednesday, April 21, 2021
8:00 a.m. – 3:00 p.m.
Advocacy Associates will be scheduling virtual meetings for the U.S. House and U.S. Senate. Individual schedules will be created for each meeting attendee and sent before Lobby Day.
3:30-4:30 p.m. CST: Lobby Day Networking Reception
Registration will be open March 15 through March 26 and can be accessed here.
Partners in Quality Virtual Visits Held with Reps Greenwood, Delgado
We have had 22 Partners in Quality Virtual Visits so far in 2021.  The most recent were this week with State Representative LaToya Greenwood (D-114th District; East St. Louis) and State Representative Eva Dina Delgado (D-3rd District; Chicago).
Special thanks to the following members for making the visits a success:
Joseph Hicks, director of affordable housing, St. Andrew's Resources for Seniors System (STARSS)
Silvia Morici, COO, Norwood Life Society
Michael Toohey, CEO, Norwood Life Society
Christy Utterback, regional director, St. Andrew's Resources for Seniors System (STARSS)
For Michael and Silvia, it was their second virtual visit since the onset of the pandemic, informaing their legislators of the experiences of their staff and residents and challenges the organization has dealt with. A few months ago, they had a virtual with U.S. Rep. Jesus Garcia (D-4th District; Chicago). Bethesda Rehab and Senior Care in Chicago, a Norwood Life Society community, was the focus of the visit with Rep. Delgado, who has been in office for a year and a half at this point. She has not had a formal visit, but has been to the community in the past. The community hosted a Partners in Quality visit with Senator Omar Aquino (D-2nd District; Chicago), majority caucus whip, shortly after he was elected in 2016. The visit this week with Rep. Delgado was another example of creating early relationships with legislators.
Bethesda is over 110 years old and services include home care through skilled nursing. They have a foundation and about 500 senior volunteers. They assist about 2,500 seniors per year. Bethesda merged with Norwood Life Society four years ago. "Much like our neighborhood, we are full of diversity," said Toohey, who has over 25 years experience in the industry.
Toohey walked the representative through what the last year as a provider has been like. "The virus has taken us to places that we never thought we would see," said Toohey. Throughout the pandemic, they have been transparent. They have sent over 90 email blasts to families with updates. With family permission, they have posted over 7,000 photos on social media featuring residents. They do 25-30 zooms per day for residents connecting with families. Donors and the foundation have helped purchase equipment and technology for connecting residents to their loved ones.
They also wore masks from the beginning of the pandemic and shared the significant costs they incurred with personal protective equipment (PPE) and medical waste disposal. Staffing expenses, such as of hazard pay, have also equated into financial challenges.
Silvia told the story of the residents and how they have dealt with isolation issues and other challenges due to COVID. "Our greatest challenge has been the isolation," said Silvia. She also updated the representative on their vaccination experiences with residents and staff.
Rep. Delgado committed to staying in touch with the community and the association as well as visiting when in-person interactions are safe. "I would love to, when it is appropriate and safe, come over for a visit with you and visit with the residents," said Rep. Delgado. "My areas of expertise are very far away from your area of expertise, so I am going to be calling on you for that expertise that you have so that I can better represent you."
Joseph hosted Rep. Greenwood prior to COVID at Rush Senior Gardens, a STARS community in East St. Louis on a Saturday afternoon. Shortly after, the representative donated computers to Rush for resident usage. She plans to come back next week to deliver PPE. Christy shared the community's plans for a free, registered-nurse staffed clinic for residents. The representative was very interested in the idea and offered to assist with potentially helping make it a success.
Rep. Greenwood is the chair of the House Healthcare Availability and Access Committee and a member of the House Appropriations-Human Services Committee, two key committees. She also serves on the House Prescription Drug Affordability and Cybersecurity, Data Analytics, & IT Committees. One of her priorities is improving senior access to vaccinations. She is working with her Healthcare Availability and Access Committee Minority Spokesperson, Rep. David Welter (R-75th District; Morris) on that initiative.
If you would like to take part in the Partners in Quality initiative, contact Jason Speaks.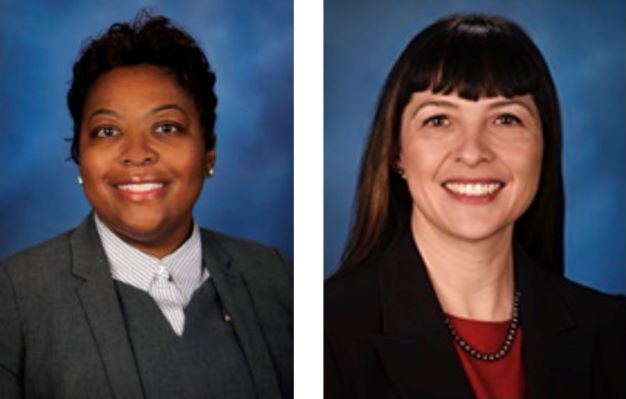 TANs Update
LeadingAge Illinois Consultant, Matt Werner of Werner Consulting, has provided his weekly update on Transaction Audit Numbers (TANs).  Click here to access the TANs report and here for an update on pendings. 
Vaccine Education Resources for Staff, Residents, and Families
In order to encourage maximum vaccination participation, we are providing you with education and resources you can use with your staff, residents, and families. We will continue to provide updated resources as we have them.
The COVID -19 vaccine is now available, but vaccination along with following the CDC's recommendation to protect yourself and others will offer the best protection from COVID-19 and stopping the pandemic. There are many questions regarding the vaccine and below are resources that you can share with staff, residents and families. The internet has various amounts of information regarding the vaccine; please make sure it is from a credible source.
Assisted Living:
LeadingAge Illinois, Argentum Advocate for Assisted Living Relief
Wednesday morning we sent you an alert to contact Congress on the imperative need for aging services to be included in the next relief package.  The relief bill in the Senate has no provisions for long term care. 
LeadingAge and Argentum have been contacting U.S. Senate offices with this message: You cannot pass a $2 trillion relief package with no provisions for seniors and caregivers. Argentum requested including providers in the bill and using the definition of long term care from the Older Americans Act, which includes assisted living. In addition to a virtual meeting with Senator Duckworth's Office recently, Argentum and members have met with Senator Durbin's office and we have made follow-up calls and communications to each office a number of times since.
LeadingAge Illinois Contact U.S. House Members on Paycheck Protection Program
At the request of Argentum, LeadingAge Illinois contacted each U.S. House Office in the Illinois Delegation asking for the representatives to sign-on to a letter regarding the Paycheck Protection Program (PPP).  
We indicated in our contacts with house offices that many senior living operators that qualified for the PPP under the CARES Act were precluded from eligibility for a second-draw loan under December's Economic Aid Act due to the elimination of alternative eligibility criteria. The sign-on letter asked the Small Business Administration (SBA) to undertake emergency rule-making to amend 13 CFR 121.103 (b) to include an exemption to the affiliation rules for those assigned an NAICS subpart code beginning with 623, which would allow relief dollars to target previously-eligible long-term care and senior living facilities.
Supportive Living:
Onsite Reviews
The Illinois Department of Healthcare and Family Services (HFS) has developed a plan for resuming routine Supportive Living Program (SLP) provider on-site reviews.  Desk audits may continue in some instances, including but not limited to incident report follow ups, complaint investigations, and some follow up reviews for findings of non-compliance.  Here are some questions and answers provided by Kara Helton at HFS:
When will my community receive an on-site review?
Routine on-site reviews, such as annual reviews, complaint investigations and follow up reviews for findings of non-compliance may begin when a SLP provider moves to Phase 3 of the Phased Re-opening process.  Please note on-site reviews are also allowed in Phases 1 and 2, if there are immediate health and safety concerns. 
When will my community's annual review be scheduled?
Once in Phase 3, the SLP provider may be contacted to schedule an annual review.  Due to the length of time since annual reviews have been completed, HFS staff will determine if some providers may skip an annual review year.  For example,  if an annual review was previously scheduled for May 2020,  the FY20 annual review will be skipped and an FY21 annual review will be initiated.  If your community was in the middle of an annual review when HFS discontinued on-site reviews in March 2020, that annual review will be scheduled with the provider for resumption.
When will complaint investigations take place?
Once a provider is in Phase 3, complaint investigations may be completed on-site.  These on-site reviews will continue to be unannounced.  Federal CMS has approved flexibility with complaint investigations by allowing desk audits.   All complaints received since March 2020 have been started as desk audits.  We appreciate your cooperation with faxing information to staff.  Some complaints also require an on-site review.  These will not be scheduled ahead of time.  When there are multiple complaint investigations pending, HFS staff may complete an investigation for all during a single on-site review, especially when there is overlap with allegations, or if the information required is minimal.  This will make the process more efficient for providers and HFS staff.
When will pending findings of non-compliance be issued?
After a provider moves to Phase 3, findings for previously completed annual reviews and complaint investigations will be presented via phone and fax according to our normal exit procedures.  Regional Supervisors will combine exits for complaint investigations and annual reviews together if there is an overlap with findings or a very small number of findings.  The goal is to allow a provider to develop and implement one plan of correction if they have the same or similar findings for multiple reviews. This will also reduce the number of follow up reviews required.  For example, if a complaint investigation and an annual review will have shared findings issued for 146.245 c RAI and 146.245 d Service Plan and also a finding for 146.230 b 3 Nursing Follow-up Care with the complaint, it make sense to issue at the same time since there is an overlap of findings and the plan of correction for all of the findings would also probably include in-servicing licensed nursing staff.  Again, the goal is to have a more efficient process for providers and HFS staff.
Will my community be cited for requirements impacted by the COVID 19 pandemic?
HFS plans to be reasonable when determining findings related requirements that were impacted by COVID 19. This includes but is not limited to untimely fingerprint checks when vendors were closed, expired CPR certification when training with a return demonstration was not being provided and late staff training.  There were also some allowances made during the public health emergency, such as preadmission assessments being completed by phone and allowed as a post screen if completed within 10 days.  Also the use of Temporary Nurse Aides (no longer allowed).   Additionally, communal dining, large group activities and activities outside of the building have not been allowed at various points.
Annual Level of Care Evaluations
Requirements for annual Level of Care Determinations have been relaxed by federal CMS during the public health emergency.  However, HFS still would like to complete as many as possible.  These may be completed separately from an annual review.
What processes do HFS staff have to follow for an on-site review?
HFS staff completing onsite reviews will be tested for COVID.  They will also complete the assessment required by your community for entry to the building.  HFS staff will have their own PPE.
Kara asks for provider patience. Scheduling pending annual reviews, complaint investigations, exit conferences, and follow up reviews is a huge task for HFS staff, according to Kara. It also may change at the last minute if a provider has an outbreak. Kara asks that you not contact HFS staff to inquire when your annual review will be scheduled. HFS will contact you to schedule.
You can continue to submit reports of facility onset and associated COVID cases to Kara so that HFS can plan and adjust our schedules around outbreaks.
Nursing and Rehabilitation:
Updated Medicaid Rate List for Nursing Facilities
The Illinois Department of Healthcare and Family Services (HFS) has posted an Updated Medicaid Rate List for Nursing Facilities, effective January 1, 2021. You may view the updated list here.  LeadingAge Illinois continues to meet weekly with the Department on a rate reform initiative and we will keep members abreast of proposals and other information. 
Independent Affordable/Subsidized Housing:
HUD Answers LeadingAge Member Questions on Service Coordination
In two calls with LeadingAge housing provider members this week, HUD staff at both the headquarters and the regional levels discussed Service Coordinator grant renewal guidance for 2021 and highlighted key dates and approaches for grantees. Under a streamlined approach, grantees can renew Service Coordination programs without submitting a full year budget, opting instead to receive a 1.3% cost of living adjustment from HUD; the condensed application period ends on March 22. During the LeadingAge calls, HUD staff also answered a series of questions from members about service coordination programs in HUD housing in general – more information is available here.
Other:
Illinois Aging Services Network (ILASN)
All LeadingAge Illinois non-profit long-term care provider members are encouraged to apply for membership with our partner, Illinois Aging Services Network (ILASN), a network of non-profit, post-acute, long-term care providers banding together to navigate the changes to reimbursement.  All LeadingAge Illinois for-profit members are welcome to participate in ILASN as subcontracting entities. 
ILASN is made up of LeadingAge Illinois, not-for-profit, post-acute long-term care providers that have joined together to create a specialized network, ILASN, whose mission is to maximize the health and well-being of seniors through innovative, cost-effective care management practices; quality improvement activities, and contracting relationships with health plans and health delivery systems. In order to join as a member of the ILASN network, you must be a member of LeadingAge Illinois.
Learn more about ILASN's Member Benefits
Apply for ILASN Membership today!