Top Stories:
From the Desk of Karen Messer, President and CEO
Contact Your Legislators! Fund the Frontlines! $435 Million Needed for COVID-19 Relief
IDPH Lab Holiday Schedules
CDC Call to Action for Healthcare Providers
LeadingAge National Weekly Recap
Weekly TANs and Medicaid Pendings Update
COVID Test Positivity by County
Independent/Subsidized Housing:
Affordable Housing Press Event
Emergency Rental Assistance Portal of Local Programs
Home Health and Hospice:
Final Opportunity to Provide Feedback on Hospice Payment Rule
CMS Announces Hospice Outcomes and Patient Evaluation (HOPE) Beta Test Recruitment
Home and Community Based Services (HCBS):
HCBS Infrastructure Action Needed
Guidance for Adult Day Services Centers
Other:
Registration Open for the HQRP – Understanding the Composite Quality Measure Webinar
Top Stories:
From the Desk of Karen Messer, President and CEO
U.S. Congress is still aiming to have an infrastructure bill by summer; at the same time federal legislators must deal with appropriations for the upcoming fiscal year. As appropriations and infrastructure debates continue, legislative discussions and proposals on a number of more focused ideas and solutions are occuring. Here's a LeadingAge article with quick updates on the state of the play. Please remember to check the LeadingAge National Action Alerts regularly and take action.
At the state level, we are now down to the final days of the spring session. Legislators will be working to pass bills and a state budget by the May 31 deadline. LeadingAge Illinois will be working through the remainder of session to push for additional relief funding for our members. Please find our action alert in your inbox as well as the top story below and if you have not already, contact your State Representative and Senator and urge them to support our COVID-19 relief asks.
With gratitude,
Karen
Contact Your Legislators! Fund the Frontlines!
$435 Million Needed for COVID-19 Relief
The Illinois General Assembly returned to session yesterday and will remain in straight through May 31 as the deadline looms to pass legislation and a state budget.
Illinois receives $8.1 billion from the federal America Rescue Plan for use by the state government for COVID-19 relief. LeadingAge Illinois has partnered with the Illinois Health Care Association (IHCA) on a joint ask of $435 million for providers to continue the fight against COVID-19. We need your help in contacting your legislators to urge them to provide this critically needed funding and accountability payments for providers.
This will take a small amount of time to make as big difference. Our collective voices need to flood legislator phone lines to get our message heard loud and clear.
Here is how you can help:
Call your State Representative and Senator in their Springfield office.
Deliver this message: "Good morning/afternoon, my name is (NAME) and I am the (TITLE) at (ORGANIZATION). On behalf of our staff, residents, and families we urge you to support the LeadingAge Illinois and Illinois Health Care Association (IHCA) request for $435 million from the America Rescue Plan to go towards funding and payments to skilled nursing centers, supportive living, and assisted living. Please act for the older adults we serve in your district and support this critically needed funding. Thank you for your time and leadership."
Have your board, staff, residents, and families make these calls as well.
If you do not know who your legislators are, click here to find out. If you have any questions or need assistance, contact Jason Speaks.
Resources:
FUND THE FRONT LINES: How to Spend Some of the COVID-19 Funding for Skilled Nursing Centers
$375 Million in critical funding to continue the fight against COVID-19
FUND THE FRONT LINES: How to Spend Some of the Supportive Living Program/Assisted Living COVID-19 Funds
$60 Million in Accountability Payments
Thank you in advance for your action and advocacy.
IDPH Lab Holiday Schedules
The Illinois Department of Public Health (IDPH) Division of Laboratories will be closed and will not receive COVID-19 samples from couriers on the following holidays:
Holiday Closures:
Memorial Day, Monday, May 31, 2021
Independence Day, Monday, July 5, 2021
Labor Day, Monday, September 6, 2021
Please make appropriate arrangements when shipping samples via UPS or FedEx as samples are only viable for 72 hours.
Normal Hours of Operation:
Monday – Friday 8 a.m. – 4:30 p.m. All Labs
Saturday – 8 a.m. – 12 p.m. – Chicago and Springfield Only
Saturday – CLOSED – Carbondale Lab Only
Please direct questions about holiday hours to:
Lab Managers:
Back to top
CDC Call to Action for Healthcare Providers
The CDC shared by email a "Call to Action for Healthcare Providers," asking them to make a strong recommendation to patients that they get a COVID vaccine. The note says that healthcare providers' recommendations are one of the most important factors in a patient's decision to accept vaccination. The Call to Action includes extensive resources on communicating, answering questions, and conducting outreach, as well as resources providers can use.

Back to top
LeadingAge National Weekly Recap
LeadingAge National has a weekly recap of various topics of interest to members:
Weekly TANs and Medicaid Pendings Update
Our consultant, Matt Werner, has provided his weekly update on Transaction Audit Numbers (TANs). Click here to access the TANs report and here for an update on Medicaid pendings.
COVID Test Positivity by County
LeadingAge Illinois Consultant, Matt Werner, has provided his most recent update on COVID Test Positivity by County. Click here for the most recent report.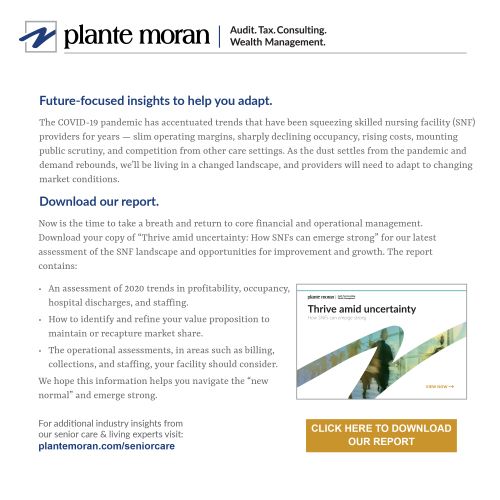 Independent/Subsidized Housing:
Affordable Housing Press Event
You can register here for this event to be held at 10:30 a.m. CST on May 27. The Foundation of Health and Care: Investing in the Urgent, Growing Need for Affordable Housing for Older Americans. During this event, aging service leaders will lay out the urgent and growing needs as Congress debates infrastructure next steps.
Emergency Rental Assistance Portal of Local Programs
The U.S. Department of Housing and Urban Development released information on the Emergency Rental Assistance (ERA) Portal of local programs. The ERA program, funded through the Department of the Treasury, makes funding available to assist households that are unable to pay rent or utilities. Two separate programs have been established: ERA1 provides up to $25 billion and ERA2 provides up to $21.55 billion. The funds are provided directly to states, U.S. territories, local governments, and for ERA1, Indian tribes. Grantees may use the funds to provide assistance to eligible households through existing or newly created rental assistance programs. Learn more about the ERA program in the Frequently Asked Questions.
Home Health and Hospice:
Final Opportunity to Provide Feedback on Hospice Payment Rule
On May 27 at 12 pm CST, LeadingAge invites feedback focused on the changes to hospice quality reporting program and changes to the labor portion of the hospice wage index and looks forward to all contributions to LeadingAge's comments. The rule comments are due on June 7. No registration is necessary. Please reach out to Mollie Gurian at LeadingAge if you have questions or would like to provide feedback on the rule, but are unable to attend the session. Join the meeting here.
CMS Announces Hospice Outcomes and Patient Evaluation (HOPE) Beta Test Recruitment
CMS and their contractor, Abt Associates are now recruiting Medicare-certified hospice providers to participate in a beta test of the draft hospice patient assessment instrument called Hospice Outcomes & Patient Evaluation (HOPE). Recruitment ends June 14, 2021. Data collection is anticipated to begin in fall 2021. The detailed recruitment announcement and application for participation are available on CMS's Hospice QRP Provider and Stakeholder Engagement webpage. Those interested in participating should complete the application and email to CMS by June 14, 2021.
Home and Community Based Services (HCBS):
HCBS Infrastructure Action Needed
U.S.Congress needs to invest in services for older adults in our community. Aging services are an essential part of the nation's infrastructure. There are 52 million people over age 65, a population that is expected to double by 2040. Right now, we don't have the infrastructure for aging services that we need—and the systems we do have are crumbling. We now have the opportunity to invest $400 billion in home and community-based services as Congress considers the President's proposal on providing these services as part of the next infrastructure package. Act now by contacting your U.S. Representative and Senators.
Guidance for Adult Day Services Centers
The CDC updated their guidance for adult day services centers (ADSCs). ADSCs provide social or health services to community-dwelling adults aged 65 and over and adults of any age living with disability. Older adults and persons with disabilities are at highest risk for severe illness from COVID-19 including hospitalization, intensive care, and death. ADSC administrators and staff can help protect themselves and program participants (that is, adults attending ADSCs) from COVID-19 by promoting and engaging in preventive behaviors that reduce spread and maintain healthy operations and environments at ADSC facilities.
Other:
Registration Open for the HQRP – Understanding the Composite Quality Measure Webinar
The Centers for Medicare & Medicaid Services (CMS) will be hosting a webinar on Wednesday, June 2, 2021 from 1-2 p.m. CST. The purpose of this training is to provide a general overview of the Hospice Quality Composite Measure and how it differs from individual quality measures. Specific topics include: What is a Composite Measure? Current HQRP Composite Measure, Calculation of a Composite Measure, and Interpreting and Using Composite Measure Results. Click here to register for The HQRP – Understanding the Composite Quality Measure Webinar.

Please register only if you know you will be able to attend the webinar, as space is limited. If you would like your name placed on a list to receive an email notification when the recorded version of the webinar is available, please click here to be placed on an email notification list.

Back to top