02Dec(Dec 2)8:30 a.m.03(Dec 3)2:00 p.m.Private Duty SymposiumVirtual conference
Event Details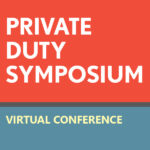 The Private Duty Symposium is the result of a partnership between LeadingAge Illinois, Home Care Association of America, and Illinois HomeCare & Hospice Council. In its 6th year, the Private Duty Symposium brings together experts and thought leaders in the home care industry to inform, inspire and enlighten attendees.
AGENDA
Day 1 – December 2, 2020
8:30 AM  Welcome
8:45 AM  National Perspectives – Keynote Bill Dombi, NAHC, Vicki Hoak, HCAOA, Brendan Flinn, Leading Age
9:45 AM  Break  
10:00 AM  Concurrent Sessions
Update on the Status of COVID-Litigation in the Private Duty Space Hinshaw Culbertson
Building a Quality Improvement Program ACHC
11:00 AM  Break
11:15 AM  Concurrent Sessions
The New Operations Toolkit  Honor
Growing Home Care Revenue through Specialty Programs Axxess
12:15 PM  The Secret Sauce in Workers Comp Rates  Gary DiVito, Wm Schwartz & Co.
1:30 PM  Day 1 Closing
Day 2 – December 3, 2020
8:30 AM  Welcome Day 2
8:45 AM  My Home Care Story – Opening Keynote Lieutenant Governor Juliana Stratton
9:15 AM  Break  
9:30 AM  Concurrent Sessions
The LGBTQ Senior Hinshaw Culbertson and Angel Care Home Health
Post COVID-19 – What Did We Learn/What Will We Do Differently Moving Forward CHAP
10:30 AM  Break
10:45 AM  Concurrent Sessions
Dementia Friendly Network Susan Satchell, Gentle Home Care, Aishling Kelly, Aishling Home Care
The Art and Science of Caregiver Recruiting Honor
11:45 AM  Break  
12:00 PM  IDPH Update  Karen Senger, Division Chief Home Services, Home Nursing, IDPH
1:00 PM  Break  
1:15 PM  Post-Election Projections Angelo Spinola, Littler
2:30 PM Day 2 Closing
REGISTRATION FEES
Members: $105 (early bird), $135 (regular)
Make sure to log in to receive member pricing.
Non-members: $155 (early bird), $185 (regular)
Early bird pricing valid through November 25 with coupon code PDSEB2020
.
Register for this event!
Registrations is no longer available for this event!
Time

2 (Wednesday) 8:30 a.m. - 3 (Thursday) 2:00 p.m. CST