Top Stories:
From the Desk of Karen Messer, President and CEO
IDPH Releases Updated Visitation Guidance
IDPH Weekly Call
LeadingAge Illinois Testifies in Joint Committee Hearing on State of Long Term Care and COVID
A Message From LeadingAge National on the 2021 Annual Meeting
BinaxNOW Cards with an Imminent Expiration Date
COVID Test Positivity by County
Nursing and Rehabilitation:
NHSN Updates to COVID-19 Vaccine Reporting Module
Independent/Subsidized Housing:
HUD and HHS to Facilitate Vaccine Access for Affordable Senior Housing
Home and Community-Based Services (HCBS):
CDC Discussion on COVID Vaccination and Adult Day Services
Home Health and Hospice:
Hospice Quality Reporting Program Forum
Opportunities to Provide Feedback on Hospice Payment Rule
Technology:
Tell Congress to Make Telehealth Access a Priority
Top Stories:
From the Desk of Karen Messer, President and CEO
Join LeadingAge Illinois and LeadingAge National in celebrating Older Americans Month in May. Each May, the Administration for Community Living recognizes Older Americans Month to acknowledge the contribution of older adults. This year, the observance's theme "Communities of Strength," is especially relevant as the country debates the value of supporting our national care infrastructure. Check out this National toolkit of materials and ideas on how to participate.
LeadingAge is also looking for photos from members that they can share throughout May. Help showcase themes such as building endurance, overcoming challenges, and celebrating the joy in little. Photo ideas include staff working with residents on using technology, residents participating in community programming, and reunion photos. You can submit your photos here.
With gratitude,
Karen
IDPH Releases Updated Visitation Guidance
Illinois Department of Public Health (IDPH) released their Updated LTC Visitation Guidance. It can be found here.
IDPH Weekly Call
IDPH will be sending a template with guidance on how to submit PBJ data next week. They plan to offer trainings in May. Facilities will need to submit data in June or will be subjected to fines. IDPH will also be sending information regarding the state RN waiver.
LeadingAge Illinois Testifies in Joint Committee Hearing on State of Long Term Care and COVID
On Wednesday morning, LeadingAge Illinois President and CEO, Karen Messer, testified before a Joint Hearing of the House Human Services and Mental Health Committees. The subject matter hearing was titled, "State of Long Term Care and COVID."
During the hearing, Karen focused on the challenges and experiences members have had during the pandemic, workforce issues, and accountability.  She also explained the Care for our Seniors Act, a joint partnership between LeadingAge and the American Health Care Association (AHCA).  LeadingAge Illinois will continue to discuss these important issues with members of the Illinois General Assembly.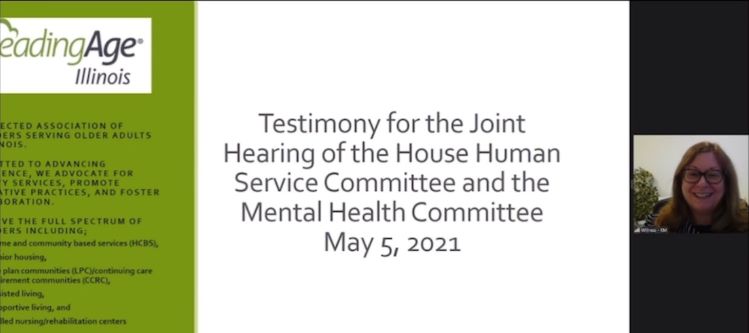 A Message From LeadingAge National on the 2021 Annual Meeting
LeadingAge president and CEO Katie Smith Sloan wrote a new message on our 2021 Annual Meeting.
Later this year, LeadingAge is convening our membership in Atlanta, in a state currently at the center of the voting restriction issue. As is required for an event as large as ours, the location and venue were selected years in advance. But we cannot overlook the current situation as we prepare for our time in Georgia.

Voting is a fundamental right that doesn't expire with age. We oppose actions or efforts to restrict that right. Regardless of race, economic status, political affiliation, ability, or age, we all should be able to make our voices heard as part of the democratic process.

LeadingAge will work with colleagues and other stakeholders to identify opportunities to enhance our national efforts to support voter rights for the older adults we serve and those who work in our member organizations…
Read Katie's entire message on how LeadingAge members will convene in Atlanta this fall.
BinaxNOW Cards with an Imminent Expiration Date
LeadingAge spoke to Abbott and they filed with the FDA to have a longer expiration period for all lots of tests in the field. The FDA extended the expiration date for many lots of tests! Here is a list of lot numbers for BinaxNOW cards and their new expiration date – please check your lot number.
COVID Test Positivity by County
LeadingAge Illinois Consultant, Matt Werner, has provided his most recent update on COVID Test Positivity by County. Click here for the most recent report.
Nursing and Rehabilitation:
NHSN Updates to COVID-19 Vaccine Reporting Module
As we noted previously, the CDC is planning to update the (currently optional) COVID-19 Vaccine Reporting module in NHSN. These updates will take place in the next week or so and updated Tables of Instructions will be available. The CDC has announced a training on May 11 at 2:30 p.m. CST to review these updates. A recording of the training will be re-broadcast four more times: May 18, 20, 25, and 27. Register here for the live and recorded broadcasts and remember to sign on early.
Independent/Subsidized Housing:
HUD and HHS to Facilitate Vaccine Access for Affordable Senior Housing
According to a May 3 announcement from the White House, the Secretaries of HUD and HHS have issued a joint letter directing community health centers and HUD's network of housing agencies, housing owners, and programs to provide COVID-19 vaccinations and testing to HUD-assisted households, including elderly residents in HUD's senior and public housing. HUD and HHS regional and field staff will facilitate these partnerships, including coordinating on-site vaccine clinics in HUD-assisted housing serving the elderly. LeadingAge has been working with the Administration to get additional vaccine access to residents and is pleased at this development.
Home and Community-Based Services (HCBS):
CDC Discussion on COVID Vaccination and Adult Day Services
This week, the CDC sent out a save the date for Thursday, May 13, 11 a.m. – 12:15 p.m. CST, with zoom information forthcoming, for a session on COVID vaccination and adult day services. This session will discuss the public health challenges faced by adult day service centers, as they put in place operating plans now that vaccinations are becoming more available. This session is intended as a follow-up to prior discussions with several adult day service centers on April 19. Anyone who works with adult day service centers is welcome.
Home Health and Hospice:
Hospice Quality Reporting Program Forum
On Wednesday, May 12 from 1-2 p.m. CST, the Centers for Medicare & Medicaid Services (CMS) will host a webinar to share updates on the Hospice Outcomes & Patient Evaluation (HOPE) assessment. During this webinar, CMS subject matter experts will discuss the HOPE background and objectives and HOPE development and testing updates. CMS will answer questions at the end of the webinar as time permits. You can register here.
Opportunities to Provide Feedback on Hospice Payment Rule
LeadingAge will hold two feedback sessions to discuss the hospice payment rule. They particularly invite feedback focused on the changes to hospice quality reporting program and changes to the labor portion of the hospice wage index, but look forward to all contributions to LeadingAge's comments. The sessions will be on May 18 and May 20, both at 1 p.m. CST. The rule comments are due on June 7. No registration is necessary, please just bring yourselves and your feedback. Please reach out to Mollie Gurian at National if you have questions or would like to provide feedback on the rule but are unable to attend either session.
Technology:
Tell Congress to Make Telehealth Access A Priority
The past year has highlighted the value of expanded access to telehealth services. Now is the time to urge Congress to support the inclusion of telehealth services under Medicare as a priority in any infrastructure package. ACT NOW by contacting your U.S. Representative and Senators.