Welcome to the Lead
From the Desk of Angela Schnepf, President and CEO

The President issued a Proclamation on Older Americans Month, 2023, on May 1. The Proclamation recounts improvements to Medicare and the Administration's goal of preserving Social Security and Medicare. It also details the Caregiving Executive Order and talks about older Americans being the "pillars of our community." Here in Illinois, Governor Pritzker also proclaimed May to be Older Americans Month in Illinois. Please join us in celebrating this important month of the year and as we celebrate older Illinoisans we are also filled with joy that we have such dedicated, passionate providers giving the absolute best care and services for seniors.
Kindest regards,
Angela
Top Stories:
LeadingAge Illinois Advocacy Day Wrap Up

Yesterday at the Illinois State Capitol in Springfield, LeadingAge Illinois members converged o the Capitol complex all day for Advocacy Day 2023. The day included several meetings with legislators to educate them on older adult care and services and push the LeadingAge Illinois 2023 Public Policy Priorities.
Members were escorted by LeadingAge Illinois staff, Angela Schnepf, President and CEO, Jason Speaks, director of government relations, Daniel Churchill, Director of Finance, and Michelle Rybicki, Association Coordinator.
Special Thanks to the following members for attending Advocacy Day:
Holly Bauman, Director of Nursing, Apostolic Christian Home of Eureka
Matt Feucht, Executive Director, Apostolic Christian Skylines
William De Young, COO, Providence Life Services
Megan Hodel, Corporate Nurse, Apostolic Christian Healthcare
Dave Blunier, CEO, Fairview Haven
Brandon Stoller, Assistant Administrator, Fairview Haven
Mark Dubovick, Health Services Administrator, The Admiral at the Lake
Kristen Felker, Administrator, Ascension Living
Julie Mirostaw, Director, State Policy and Advocacy, Ascension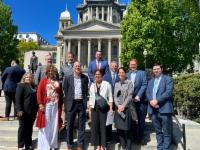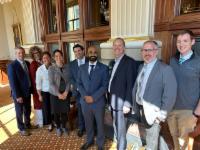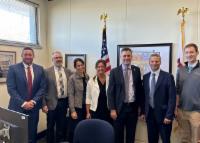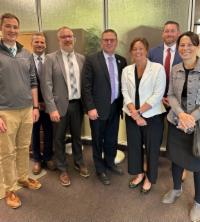 Sheila Baker Named Deputy Director at IDPH
Sheila Baker has been promoted to the position of Deputy Director of the Office of Health Care Regulation at the Illinois Department of Public Health (IDPH).
She started her career with IDPH in 2021 in the position of Bureau Chief of Long-Term Care. As Bureau Chief, she was responsible for long term care regulation enforcement along with her Bureau team. Sheila has been in healthcare for over 25 years and has held several healthcare leadership positions in Cigna, Presence Health, Riverside Healthcare, Aunt Martha's Healthcare and University of Chicago Medicine. Early in her career after graduating from law school, she practiced law, primarily focused on health care compliance and employee/labor relations. She holds a Juris Doctorate from University of Illinois Champaign Urbana, a Master of Business Administration degree from Saint Xavier University and a Bachelor of Science in Nursing from Marquette University.
Sheila will take part in LeadingAge Illinois' Assisted Living Boot Camp on May 16.
Medicaid Ready to Renew Toolkit

The Ready to Renew messaging toolkit be found at the Ready to Renew Toolkit Webpage. You can use these materials through your communication channels to help people who use Medicaid get ready to renew their coverage.
This week, Governor Pritzker held a press conference to reaffirm Illinois' commitment to protect coverage for eligible Medicaid customers, as annual eligibility verifications resume. Medicaid customers haven't been through a redetermination in over three years, which is why it's so important that they're ready when their renewal date comes up. We are firmly committed to offering as much assistance as customers need to get through this process because the State wants everyone who is eligible for Medicaid to continue to be covered, without any disruption. Click here for the full press release.
Nursing/Rehabilitation:
CMS Guidance for Nursing Homes on End of Public Health Emergency

CMS released new guidance on May 1 about the end of the COVID-19 public health emergency. For nursing homes, this guidance includes termination of the staff vaccination mandate, enforcement discretion for COVID notifications to residents and families, and termination of the actual emergency exemption for emergency preparedness exercise requirements. Read here for more information on these changes and what nursing homes need to remember related to these changes.
The memo QSO-23-13-ALL notes that nursing homes' requirement to educate staff/residents on COVID-19 vaccination and offer or assist with accessing vaccination will not end. CMS also announced that while nursing homes must continue requirements to report COVID data to NHSN through December 31, 2024, they will exercise enforcement discretion of requirements (i.e., not expect providers to meet requirements) at Section 483.80(g)(3) for nursing homes to notify residents/families of new COVID cases or symptom clusters by 5pm the next calendar day and provide weekly cumulative updates. Read more updates, including requirements for Emergency Preparedness and other provider types here.
2022 Long Term Care (LTC) Cost Report Filings

The 2022 LTC cost report form has some important updates related to information that is being required to be collected. The updated forms and instructions were published on the Illinois Department of Healthcare and Family Services (HFS) web site on July 22, 2022.
These items will be reviewed for completeness. If these sections are not fully completed, the facility will be notified by letter that their cost report is incomplete. This letter will give the facility 30 days to complete the cost report. After the 30-day period has passed, if the facility has failed to provide the missing information, HFS will have their Medicaid payments withheld. HFS will remove the payment hold once the missing information has been submitted and the cost report is considered complete.
Below is a summary of the 2022 cost report updates.
Ownership Listing Pages:
These two pages require the names of all individual owners (persons, not entities), their percentage of ownership, and the City and State of residence. The cumulative percentage of ownership reported at the individual level is to equal 100%.
Page 2 Census detail:
Additional census detail is requested for patient days. Please ensure that the days are entered as requested by the form. It is understood that some providers may not have the level of detail required for the Medicare-Medicaid Alignment Initiative (MMAI) days. Please provide what you have available in your records for these census days.
Page 19, Section III – Net Inpatient Revenue Detailed by Payer Source:
This section has been updated to match the patient day payment source categories on page 2 of the cost report. This updated section requires the "Inpatient Care Revenue" reported on line 3 of page 19 to be detailed by payer source. The total amount reported in this section should agree with the amount reported on line 3 of this schedule.
Page 22, Questions 2 through 4:
The questions related to the association dues have been updated and expanded for HFS to obtain better information. Please provide the information requested by each question for these expenses.
Upon completion of the 2022 LTC cost report file, send the file by email or CD to
HFS.HealthFinance@illinois.gov. A signed paper copy must be sent in also to:
Bureau of Health Finance
Illinois Department of Healthcare and Family Services
201 South Grand Avenue East
Springfield, Illinois 62763
Questions regarding this notice may be directed to the Bureau of Health Finance at
217.524.4489, or to HFS.HealthFinance@illinois.gov.
Housing:
New NTIA Broadband Funding Guide From HUD
Affordable housing leaders may soon be able to tap substantial amounts of funding for broadband infrastructure and digital equity, and a new guide describes how affordable housing stakeholders may benefit from the funding. "ConnectHomeUSA Guide to New Broadband Funding for HUD-Assisted Communities" is a new resource for states and organizations from the U.S. Department of Housing and Urban Development (HUD). More information can be found on the LeadingAge website.
Back to top
Other:
LeadingAge Illinois Advocacy Center
The 2023 Illinois General Assembly Spring Session is now in full swing. The LeadingAge Illinois public policy team will be pushing for our Board-approved 2023 public policy priorities, while also advocating for member interests by supporting legislation that brings about solutions to provider challenges, while opposing and working to stop bills that place undue burden on member settings. We will send out more information on the LeadingAge Illinois legislation as they are officially introduced. You can also view all of the bills we are tracking on the LeadingAge Illinois Legislative Tracker which is live updated on active in the LeadingAge Illinois Advocacy Center.  If you have any questions, contact Jason Speaks, director of government relations.