Top Stories:
IDPH Releases Updated Interim Guidance Nursing Homes/Other Long-Term Care
Partners in Quality Virtual Visit Held with New Senator
LeadingAge Provider Relief Fund Survey
Medicare PAYGO and Sequester Update
LeadingAge National Weekly Updates
Other:
Value First and HPSI Partner to Bring Members Capital Equipment Options
Top Stories:
IDPH Releases Updated Interim Guidance Nursing Homes/Other Long-Term Care Facilities Incorporating COVID-19 Vaccination
On March 19, 2021, the Illinois Department of Public Health (IDPH) released the long awaited Updated Interim Guidance for Nursing Homes and Other Long-Term Care Facilities Incorporating COVID -19 Vaccination. This update aligns with the language in the revised CMS Nursing Home Visitation Guidance QSO-20-39-NH, released on March 10, 2021. CMS phases no longer exist.
The CDC still recommends maintaining core infection control practices that reduce the spread of COVID-19, such as wearing a face masks, performing hand hygiene and maintaining 6 feet of physical distance form others, despite vaccination status.
It is highly advised that you read the entire IDPH guidance. Below are some of the changes but is not all inclusive:
New definitions include:
Fully Vaccinated: The vaccination status of a person who is ≥two weeks following receipt of the second dose in a valid two-dose series, or ≥two weeks following receipt of one dose of a single-dose vaccine. Higher-risk Exposure An exposure of a staff member to a person with COVID-19 in any of the following circumstances:
1. Staff member not wearing either face- mask or respirator.
2. Staff member not wearing eye protection, if staff member was not wearing either face mask or cloth face covering.
3. Staff member not wearing full personal protective equipment (PPE) (gown, gloves, eye protection, respirator) while performing an aerosol-generating procedure.
Round of Testing The first round of testing refers to having one test performed for all residents and staff, which should be completed within three days.
Universal Screening, no longer needs to be verbal screening by staff. Facility must retain the screening records according to the facility's record retention policy, but not for less than 30 days.
Vaccinated Health Care Personnel:
Fully vaccinated HCP with higher-risk exposures who are asymptomatic do not need to be restricted from work for 14 days following their exposure. Work restrictions for the following fully vaccinated HCP populations with higher-risk exposures should still be considered for:
HCP who have underlying immunocompromising conditions (e.g., organ transplantation, cancer treatment), which might impact level of protection provided by the COVID-19 vaccine. However, data on which immunocompromising conditions might affect response to the COVID-19 vaccine and the magnitude of risk are not available
Newly Admitted or Readmitted Residents:
Residents who are not fully vaccinated must quarantine for 14 days upon admission or readmission to the facility in transmission-based precautions.Quarantine is no longer recommended for residents who are being admitted to a post-acute care facility if they are fully vaccinated or within 90 days of confirmed COVID-19 infection and have not had prolonged close contact with someone with COVID-19 infection in the prior 14 days. Leaves of absence, medical appointments with family. Residents may go out of the nursing home for day visits, leaves of absence, appointments, etc. They need to continue to follow core principles of COVID-19 infection prevention while out: masking, social distancing, hand hygiene, etc. and the nursing home should evaluate whether quarantine upon return would be appropriate.
General Visitation Guidance- Required Visitation:
Continue to pre-screen visitor by phone for indoor and outdoor visits using checklist based screen protocol or through electronic screening methods less than 24 hours in advance, re-screen with the same protocol on arrival, including temperature check. Facilities cannot require viral testing of visitors, unless the offer point of care testing at no charge. If the resident is fully vaccinated, they can choose to have close contact (including touch) with their visitor while wearing a well-fitting cloth face mask or face covering and performing hand-hygiene before and after.
Indoor Visitation:
Facilities should allow indoor visitation at all times and for all residents (regardless of vaccination status), except for a few circumstances when visitation should be limited due to a high risk of COVID-19 transmission (note: compassionate care visits should be permitted at all times).
These scenarios include limiting indoor visitation for:
unvaccinated residents, if the nursing home's COVID-19 county positivity rate is >10% and
residents with confirmed COVID-19 infection, whether vaccinated or unvaccinated, until they have met the criteria to discontinue transmission-based precautions; or
residents in quarantine, whether vaccinated or unvaccinated, until they have met criteria for release from quarantine
Indoor Visitation During An Outbreak: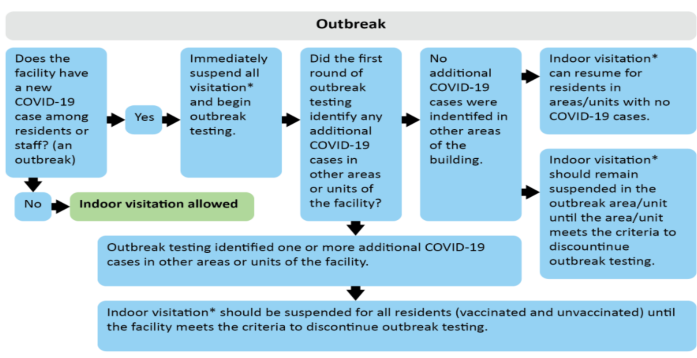 Activities and Dining:
Activities and dining can occur, as long as you continue to adhere to the core principles of COVID-19 infection prevention: masks, social distancing, restriction for those on transmission-based precautions, cleaning and disinfection of surfaces and spaces, etc.
Masks and social distancing will still be required for the foreseeable future, risk than others.
Partners in Quality Virtual Visit Held with New Senator
Reaching out to a new legislator right away to educate them on aging services and begin developing a relationship, is an imperative aspect of grassroots advocacy.  It also is a key part of the Partners in Quality program.  Another example of getting in early and developing a relationship with a new legislator was on display yesterday. We held a Partners in Quality Virtual Visit with Senator Sally Turner (R-44th District; Lincoln).
Matt Riehle, chief operating officer, Westminster Village, Bloomington, gave the Senator a background on his community and LeadingAge Illinois.  Matt, the LeadingAge Illinois Nursing Facilities Cabinet President, also described the challenges members and their residents and staff have faced over the last year.  He talked about the heroes that rose up and fought COVID-19 to keep residents safe.  "Our frontline staff are phenomenal.  Their story is not shared enough," said Matt.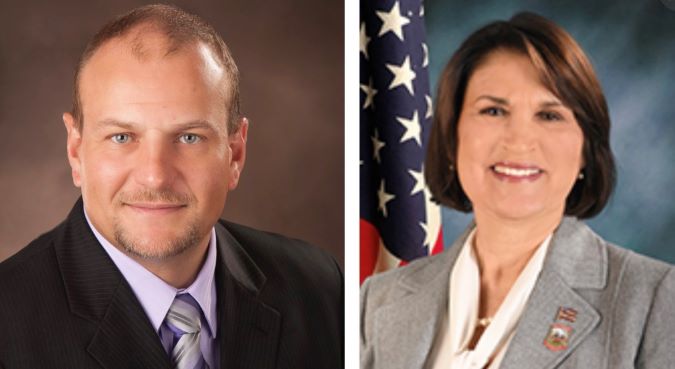 Discussion also centered around the need for more relief funding. Forgiven PPP loans and funding from the U.S. Department of Health and Human Services (HHS) has helped, but providers are still left with large losses. Matt asked the Senator to support our funding ask from the America Rescue Plan funds coming to Illinois. The Senator agreed that providers need more funding and indicated she would inform the administration of the need on our behalf. "This is the time for you to say what you need to say," said the Senator in regards to the need to outline the need for more relief. She committed to visiting Westminster Village, when it is safe and appropriate and expressed her appreciation for what Matt and staff do for the residents of her district. "Thank you for what you do, it's quite an admiral profession," said Sen. Turner.
LeadingAge Provider Relief Fund Survey
Help LeadingAge make the case to Congress for the need for additional Provider Relief Funds by completing this survey TODAY sharing with how much the Provider Relief Funds have helped your organization to date and any remaining needs for assistance. Click here to take the survey.
Medicare PAYGO and Sequester Update
The U.S. House voted to prevent Medicare rate cuts of up to 6% by extending the sequester suspension and exempting the American Rescue Plan from PAYGO rules. See more detail here. This bill prevents Medicare rate cuts across all providers, including home health agencies, hospices, PACE organizations and skilled nursing facilities (SNFs).
LeadingAge National Weekly Updates
LeadingAge National has recaps of last week's activity on issues for various member segments.
Other:
Value First and HPSI Partner to Bring Members Capital Equipment Options
As members refresh and remodel dining rooms, common areas, and outdoor spaces, Value First can assist members by bringing a larger breadth of vendor options with extra savings through new and improved contract agreements. Click here to check out the latest on furnishings and equipment from Value First.