From the Desk of Karen Messer, President and CEO
Top Stories:
Governor Approves State Budget
Governor Announces Vaccine Lottery
Veto Session Dates Announced
Medicaid Rate Reform Update
Weekly TANs and Pendings Update
Nursing and Rehabilitation:
NHSN Cheat Sheet
Staffing Data Reporting Update
Independent/Subsidized Housing:
Deputy Secretary of HUD Sworn In
Home Health and Hospice:
Quarterly Update to Home Health Grouper Released
Other:
HealthChoice Illinois ADT Update
Member Named to OASAC Executive Committee
Meridian System Migration Update & Webinars
From the Desk of Karen Messer, President and CEO:
Last Chance to Register!
Join us next week for Transformation- 2021 Annual Meeting and Expo. As we immersed ourselves in virtual conference planning, we set our sights on delivering a conference experience that is:
Accessible – whether working from home, the office or community
Affordable – appreciating the financial burdens you have endured these past 15 months (member rate: $195 per person or $995 for your entire team from one site!)
Educational – national experts and thought leaders presenting relevant and timely content you need right now as you recover
Engaging – while conference calls and zoom have kept us connected during the pandemic, our conference platform is MUCH more interesting and interactive and so easy/ to navigate
Team centric – sessions and registration fees were developed with ALL team members in mind
Transformational – your team has carried your organization through the greatest disruptor ever seen in senior living and services.  Show your appreciation of their accomplishments with this learning opportunity that will recognize and inspire their continued growth and contribution to your organization's transformation.
I strongly urge you to consider the value of this conference experience and register your team TODAY.
With gratitude,
Karen
Top Stories:
Governor Approves State Budget
Yesterday, the Governor signed the state budget bill (SB2800) and the Budget Implementation Bill (SB2017).  The approved budget includes the federal America Rescue Plan (ARP) funding as well as funds for long term care and other services. There is an increase over nearly $60 million for the Illinois Department on Aging's (DoA) Community Care Program (CCP). It also includes $114 million for affordable and supportive housing.
Governor Announces Vaccine Lottery
During our weekly meeting with the Illinois Department of Public Health (IDPH) yesterday, the Department reported that the Governor has announced the All in for the Win program.  This vaccine lottery is a $10 million vaccine sweepstakes. All eligible Illinois residents will be automatically entered into two programs with different jackpots.  The first drawing takes place on Thursday, July 8 and will continue through the end of August.
Veto Session Dates Announced
The Illinois General Assembly has announced their fall veto session dates.  The annual six-day session will take place October 19-21 and 26-28.  LeadingAge Illinois will be closely monitoring the activity of the session and keep members abreast of all activity. 
Medicaid Rate Reform Update
The nursing home rate redesign was left unresolved at the end of the legislative session, which now moves the issue into the summer for discussions and planning to put a new design in place by January 1, 2022.  The LeadingAge Illinois and the Illinois Health Care Association (IHCA) proposal is conceptually on the same page, closely aligned from a policy standpoint, and has similar goals as the Illinois Department of Healthcare and Family Services (HFS) plan.
We continue to have discussions with HFS, the Medicaid Work Group, and stakeholders and will take part in a number of summer meetings on this issue. We also continue to press on the very serious workforce issues, which members of our provider workgroup report is a crisis. We have been consistent in our meetings with legislators and HFS as well as in legislative hearing testimony on workforce needs. We are in an ongoing fight on issues that include joining the Nurse Licensure Compact and making Medication Aides and Temporary Nursing Assistants (TNAs) permanent.
The principles we are stressing in our rate reform proposal continue to be:
The PDPM transition/conversion
Any change in the tax must be at the same time as a change in the reimbursement
Incentivize staffing and rewarding quality and accountability
Minimizing losers
We have made suggestions to HFS and General Assembly on how the America Rescue Plan funding should be utilized, which include helping providers with the workforce crisis. We met with the HFS Director/leadership the last week of the legislative session on our proposal and asks and remain committed to working with the Department to compromise and workout our differences as we move along this process. HFS must have a plan by August. There will be several discussions/meetings in July on this. In the next two weeks, HFS will be working on implementing items from the state budget, submitting required documentation to the federal government, etc.
Weekly TANs and Pendings Update
Matt Werner, LeadingAge Illinois Medicaid Consultant, has provided the latest report on Transaction Audit Numbers (TANs) and Medicaid Pendings. Click here for the TANs Report and here for the Pendings Report. 
Nursing and Rehabilitation:
NHSN Cheat Sheet
LeadingAge National has prepared an NHSN Cheat Sheet. Click here for the Top Reasons CMS Thinks Your Nursing Home Did Not Report COVID-19 Vaccination Data for Residents and Staff into NHSN.
Staffing Data Reporting Update
As we reported earlier, the Governor signed the Budget Implementation Bill (SB2017) yesterday.   It includes the language the associations requested on the Illinois Department of Public Health (IDPH) staffing rule that says that "the manner in which the Department requests payroll-based journal information to be submitted shall align with the federal Centers for Medicare and Medicaid Services' (CMS) requirements that allow providers to submit the quarterly data in an aggregate manner."  Language was also added stating that "no monetary penalty may be issued for noncompliance during the implementation period, which shall be July 1, 2020 through December 31, 2021 (instead of September 30, 2020)" and "monetary penalties shall be imposed beginning no later than January 1, 2022 (instead of January 1, 2021)."
Independent/Subsidized Housing:
Deputy Secretary of HUD Sworn In
Adrianne Todman has been sworn in as Deputy Secretary of the U.S. Department of Housing and Urban Development (HUD). She most recently served as the CEO of the National Association of Housing and Redevelopment Officials (NAHRO). "LeadingAge is thrilled with her appointment and she has been a longtime, well known fixture in D.C. for housing," said Linda Couch, vice president of housing policy at LeadingAge National during the LeadingAge Illinois Regional HUD Member Meeting yesterday. 
Back to top
Home Health and Hospice:
Quarterly Update to Home Health Grouper Released
This MLN article tells home health agencies that there is an October 2021 update to the Home Health Grouper software to reflect annual diagnosis code changes.
Other:
HealthChoice Illinois ADT Update
The HealthChoice Illinois ADT webpage has now been updated with the Long Term Care Demo Slide Deck from June 15 and a recording of the Long Term Care Demo.  You will also find an FAQ  which currently provides information regarding State and Federal Policies, Technical Onboarding Information and Cost.  This page will be updated frequently.  The Provider Notice sent on June 7 included the survey for long term care participants to collect important onboarding information.  If your facility did not get a chance to complete the survey, please follow the below steps:
To participate in the survey:
Click here to open and complete the survey.
Please complete the survey by July 9, 2021.
The HealthChoice Illinois ADT onboarding packet will be provided to the contact referenced in the Long Term Care survey. If you have additional questions, please email HealthChoice ADT.
Member Named to OASAC Executive Committee
Sherry Barter Hamlin, CEO of The Voyage Senior Living, has been named to the Executive Committee of the Older Adult Services Advisory Committee.  The committee, which meets quarterly, studies and makes recommendations on numerous system-restructuring initiatives required by the Older Adult Services Act. The committee also monitors, develops, and provides guidance on multiple reports and demonstration grants. Committee members include representatives from a variety of statewide associations, senior service organization representatives, citizen members and family caregivers. Sherry, John Larson, CEO of Cantata Adult Life Services, and Jason Speaks of LeadingAge Illinois are members of the full committee.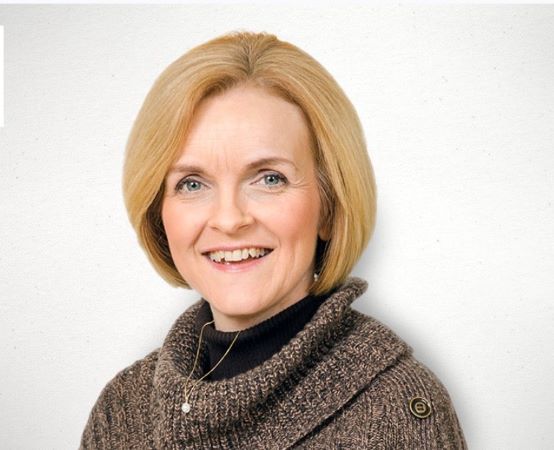 Pictured Above: Sherry Barter Hamlin, CEO of The Voyage Senior Living.
Meridian System Migration Update & Webinars
In preparation for Meridian's system migration scheduled for July 1, and in addition to the resource links provided below, the Provider Relations team at Meridian Health is hosting webinars for their Medicaid providers to ensure a seamless transition.
They invite you to attend one of these meetings. Each meeting will last approximately one hour and address Meridian Health's transition to Centene's web-based platforms. Registration is required.
Additional webinars and information is below: