From the Desk of Karen Messer, President and CEO
Top Stories:
CMS Mandated Training Compliance and Attestation Forms Due Today
Deadline to Submit Comments on OSHA Emergency Temporary Standard Extended
Water Quality Legislation Update
Member, State Representative Honors Resident's 105th Birthday
Submit Reporting for the Provider Relief Fund
TANs and Pendings Update
Assisted Living:
Argentum Provides Feedback on Proposed Vaccination Requirements
New Accreditation for Assisted Living Communities
Independent/Subsidized Housing:
LeadingAge Supports Fair Housing Efforts, Urges HUD to Do More
Nursing and Rehabilitation:
Fiscal Year 2022 Long Term Care Provider Assessment
Other:
Impending Deadlines
Free Nurse Leadership Training Course
Medicaid Issues New Guidance on Non-Emergency Medical Transportation
Federal Legislation Introduced on Visa to Address Workforce Shortages
From the Desk of Karen Messer, President and CEO:
As you are well aware, our member grassroots advocacy is second-to-none.  I am asking for your advocacy again today in taking part in the Housing is Infrastructure National Call-In Day. Please call your U.S. Representative and Senators in support of affordable senior housing being included in Congress's infrastructure reconciliation package. LeadingAge is seeking funding to significantly expand HUD's Section 202 Supportive Housing for the Elderly, better connect housing and health services, fund more Service Coordinators, and get internet into all affordable senior housing homes.
Please call 202-410-4546 to support housing as infrastructure. Congress needs to hear that affordable senior housing must be a part of any infrastructure reconciliation package. Not only must this infrastructure reconciliation package include affordable housing, it must include affordable senior housing.
Urge your representative and senators to support:
At least $2.5 billion for more than 27,000 new homes through HUD's successful Section 202 Supportive Housing for the Elderly program.
$1 billion for Service Coordinator contracts for the HUD-assisted senior communities currently without one.
Building-wide WiFi in HUD-assisted senior housing.
$1 billion for a new Age-Friendly Retrofit program to meet building design needs in the HUD-subsidized housing stock.
Call 202-410-4546 and the LeadingAge advocacy software will connect you with your U.S. Representative and U.S. Senators. Use our talking points to personalize your message to your elected officials. Just a few minutes of your time will help amplify our advocacy efforts with Congress.
Sample Talking Points:
I am calling from (town, state) to urge (Senator / Representative X) to support affordable senior housing in the infrastructure reconciliation package.
Older adults need more affordable housing through programs like the HUD Section 202 Supportive Housing for the Elderly program and need this housing to have Service Coordinators and internet.
As a recent poll found, 86% of U.S. adults say they support public investment in housing and support for low-income older adults.
Thank you in advance for your leadership and advocacy.
Top Stories:
CMS Mandated Training Compliance and Attestation Forms Due Today
As we reported previously, the Illinois Department of Public Health (IDPH) issued a notice to Long Term Care Facilities, Assisted Living communities, Sheltered Care communities, Home Health, Hospice, and Home Nursing Agencies on the CMS targeted COVID-19 Training for Frontline Nursing Home Staff and Management: Facility Required Certification of Compliance.
The Department is requiring each facility to certify compliance using the below attestation sheets. Fully executed forms (including date and signature) should be submitted to dph.providers@illinois.gov no later than tomorrow, July 15.
Facilities must certify compliance with the emergency rule requiring all frontline clinical staff, management staff, and newly hired staff to complete the CMS Targeted COVID-19 Training for Frontline Nursing Home Staff and Management. IDPH instructs facilities to read their letter on this issue, complete the appropriate forms provided, and return to the Department as instructed.
Deadline to Submit Comments on OSHA Emergency Temporary Standard Extended
OSHA is extending the deadline to submit comments on the recent OSHA emergency temporary standard (ETS) for healthcare settings. The new deadline to submit comments is now August 20, 2021. LeadingAge has a complimentary virtual update on the OSHA Emergency Temporary Standard for healthcare settings on our Learning Hub. This summary of the ETS outlines its requirements, most of which providers are already doing in addressing the COVID-19 pandemic. OSHA has also created many tools on its resources page to assist employers in compliance.
Water Quality Legislation Update
As you may recall, we opposed legislation in the Spring session (HB291/HB2021/SB272) that would have required nursing homes and assisted living communities to conduct costly routine water sampling and provided for civil enforcement and penalties.  LeadingAge Illinois testified in opposition to this Illinois Department of Public Health (IDPH) proposal before a Senate Committee and also discussed our opposition in meetings with the sponsor and IDPH.  The legislation did not move forward.  Along with the other associations, we met with IDPH and the Senate sponsor, Sen. Laura Ellman (D-21st District; Naperville) this week on her intent to re-introduce this piece of legislation.  The Department and the Senator committed to excluding nursing homes and assisted living communities from the legislation next session. 
HB158 did pass this session and was signed by the Governor. It is now in effect. Tucked within this large healthcare transformation legislation was a section on page 106 that adds Section 3-206.06 to the Nursing Home Care Act. Titled, Testing for Legionella bacteria, it states that facilities shall develop a policy for testing its water supply for Legionella bacteria. The policy shall include the frequency with which testing is conducted. The policy and results of any tests shall be made available to IDPH upon request.
Member, State Representative Honors Resident's 105th Birthday
Last week, LeadingAge Illinois was on hand as Anita Martinez, executive director, and the staff at Asbury Village in Godfrey, celebrated the 105th birthday of assisted living resident, Edna Griesbaum. State Representative Amy Elik (R-111th District; Alton) presented Edna with a certificate of recognition, signed by the Illinois House Speaker, recognizing her birthday.  Edna has lived at Asbury Village for 24 years. "It's a safe place and we are happy here," said Edna.  "This is a wonderful place."  At Asbury Village, 63 residents are 90 years or older.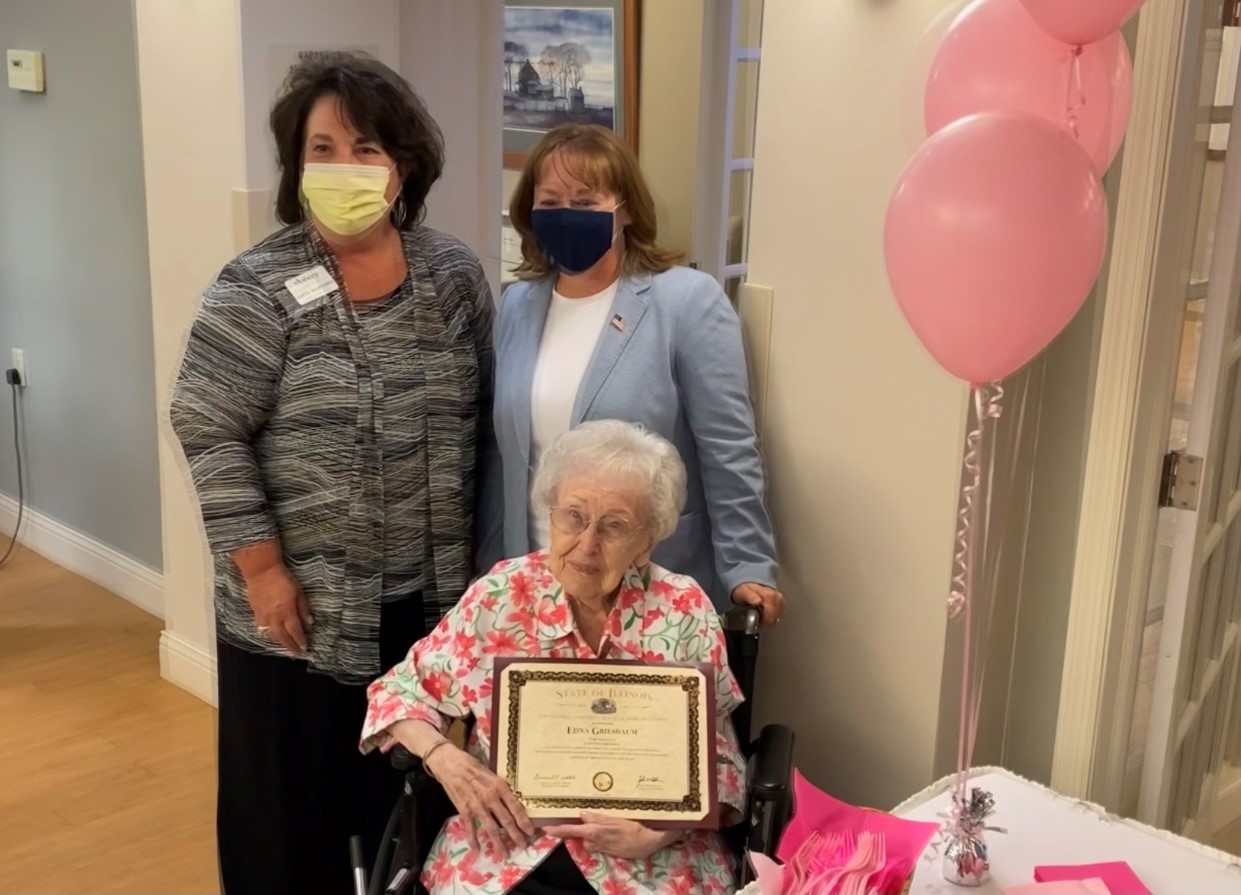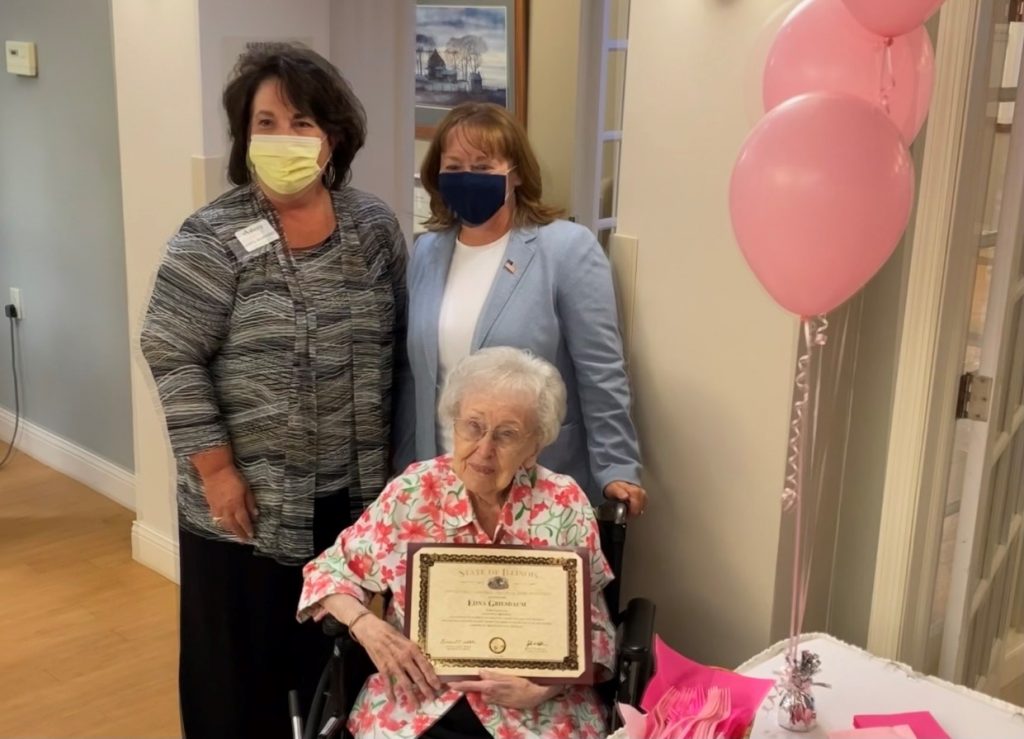 Pictured Above (left to right): Anita Martinez, executive director of Asbury Village, Edna Griesbaum, an Asbury resident, and State Representative Amy Elik (R-111th District; Alton).
Rep. Elik also brought along her Chief of Staff, Stephen Stewart. Since taking office in January, she has held a virtual Partners in Quality visit, had discussions on issues with LeadingAge Illinois staff, and will be visiting another member this month. She is a member of the House Appropriations-Human Services Committee, a key legislative committee of which important funding legislation goes through in the legislative process.
Submit Reporting for the Provider Relief Fund
The HRSA opened the Provider Relief Fund Reporting Portal on July 1. Providers that received one or more payments exceeding $10,000, in the aggregate, during a Payment Received Period are required to report on the use of funds. PRF recipients must only use payments for eligible expenses, including services rendered, and lost revenues attributable to coronavirus before the deadline that corresponds to the relevant Payment Received Period. Providers who are required to report during Reporting Period 1 have until September 30, 2021 to enter the Portal and submit their information. The reporting requirements were revised on June 11; additional information on these updates is available on the PRF Reporting Webpage, PRF Reporting Portal User Guide, and Frequently Asked Questions.
TANs and Pendings Update
Matt Werner, LeadingAge Illinois Medicaid consultant, has provided his weekly update on Transaction Audit Numbers (TANs) and Medicaid Pendings. 
Assisted Living:
Argentum Provides Feedback on Proposed Vaccination Requirements
Argentum submitted formal comments in response to an interim final rule issued by CMS in May that would require congregate care facilities to educate all residents and staff about COVID-19 vaccines, offer vaccines to all residents and staff, and report certain data regarding vaccination and therapeutic treatments. Click here for more information. 
New Accreditation for Assisted Living Communities
The Joint Commission has Distinction in Quality: A New Accreditation for Assisted Living Communities.  Click here for slides presenting the accreditation.
Independent/Subsidized Housing:
LeadingAge Supports Fair Housing Efforts, Urges HUD to Do More
LeadingAge submitted comments in support of HUD's interim final rule, "Restoring Affirmatively Furthering Fair Housing Definitions and Certifications." The rule, which is effective July 31, reinstates fair housing definitions and certifications that had been previously adopted by HUD but which were removed in a 2020 HUD rule that also removed the mechanism for the agency to assist program participants with fair housing planning efforts. The new interim final rule returns to the previous definitions and certifications, but does not require HUD program participants to undertake any specific type of fair housing planning to support their certifications. Instead, HUD is establishing a voluntary accountability process while it works toward implementation of a new fair housing planning mechanism. While LeadingAge supports the interim final rule's efforts to restore the definitions and certifications, we urge HUD to quickly take further action to also restore accountability measures that affirmatively further fair housing access. LeadingAge's comments are available here.
Nursing and Rehabilitation:
Fiscal Year 2022 Long Term Care Provider Assessment
The Illinois Department of Healthcare and Family Services (HFS) has posted a new Provider Notice regarding Fiscal Year 2022 Long Term Care Provider Assessment. Click here for the full notice.
Other:
Impending Deadlines
We want to keep you updated with reminders of items that have deadlines coming up.  Check here each newsletter for updates. 
Free Nurse Leadership Training Course
LeadingAge offers an online Nurse LEAD training program, free for LeadingAge National members or $129 for nonmembers.  Nurse Leadership Enrichment and Development (Nurse LEAD) is a training program to help charge nurses and team leaders in nursing homes become more effective coaches, leaders and supervisors of frontline staff. The program consists of an introduction and seven modules.  Learn more or sign up here.
Medicaid Issues New Guidance on Non-Emergency Medical Transportation
This Informational Bulletin highlights for states important details of provisions added by the Consolidated Appropriations Act, 2021 concerning Medicaid coverage of certain medical transportation. This provision codifies in statute the longstanding regulatory interpretation of section 1902(a)(4) of the Social Security Act (the Act) that generally requires states to assure necessary transportation for beneficiaries to and from covered services. This provision of the Consolidated Appropriations Act, 2021, also added new requirements for a state's Medicaid transportation program.   
Federal Legislation Introduced on Visa to Address Workforce Shortages
The federal Workforce for an Expanding Economy Act (H.R. 4288) would develop a new H-2C visa classification to fill non-seasonal, non-agricultural opportunities for work that does not require a college degree. The new visa program would ensure that legal foreign-born essential workers can enter the U.S. on a temporary basis and help employers address chronic workforce shortages. Current immigration law provides no year-round temporary worker visa for non-agricultural businesses. The legislation will help level the playing field for sectors such as home health care and aging services providers, as well as construction, retail, and hospitality. LeadingAge supports H.R. 4288 and will continue to work to ensure that this proposal is also part of the current debate on potential solutions to our nation's immigration policy.