Top Stories:
From the Desk of Karen Messer, President and CEO
LeadingAge Illinois Presents Testimony on Medicaid Rate Reform
Updated CDC and CMS Guidance
IDPH Weekly Meeting Recap
Three-Day Stay Waiver Update
CMS Updates Memo on Long-Term Care (LTC) Facility Testing Requirements and Revised COVID19 Focused Survey Tool
Weekly TANs and Medicaid Pendings Update
COVID Test Positivity by County
HFS Provider Notice on Utilization of the Central Scanning Unit for Long Term Care Providers Effective April 26
Assisted Living:
Assisted Living Update
IDPH Extends Rules on Infection Control and Testing
Technology:
Health Subcommittee Hearing on "Charting the Path Forward for Telehealth"
CONNECT Telehealth Legislation
Other:
Member Spotlight: Christian Horizons
Top Stories:
From the Desk of Karen Messer, President and CEO
The CDC updated guidance for providers on the COVID-19 vaccination program provider enrollment process, including the requirements.  Providers enrolling in the COVID-19 Vaccination Program must: sign the CDC COVID-19 Vaccination Provider Agreement; enroll in your jurisdiction's Immunization Information System (IIS); be trained on how to administer vaccines, report and manage vaccine inventory, store and handle vaccine, report adverse events, report doses administered data, and other essential topics related to the administration of COVID-19 vaccines; and report COVID-19 vaccine inventory daily to VaccineFinder.
With gratitude,
Karen
LeadingAge Illinois Presents Testimony on Medicaid Rate Reform
On Thursday morning, Karen Messer, president and CEO of LeadingAge Illinois, addressed the Illinois House Appropriations-Human Services Committee during a hearing on the Illinois Department of Healthcare and Human Services (HFS) budget.  Karen outlined our Medicaid Rate Reform proposal. 
Along with the Illinois Health Care Association (IHCA), we have a proposal that we feel provides better solutions and outcomes for Illinois nursing home residents.  LeadingAge Illinois and IHCA strongly believes that Medicaid rates must include quality, both rewarding those who are quality providers and incentivizing improvements in quality. Further, it is our position that rates must be tied to staffing to drive improvement and provide accountability.
LeadingAge National and the American Health Care Association (AHCA), have proposed new funding linked to similar goals, which are
Enhance quality of care and resident outcomes.
Strengthening and increasing workforce.
Oversight and accountability, and
To begin the process to nationally assess a move to private rooms.
For many years, research has continued to show that the number of nursing staff hours improves resident outcomes, improves quality, and overall provides benefits compared to lower staffed nursing homes.
Additionally, with regard to a provider tax, new funding through an increase of the provider tax must be at same time as rate redesign. A rate redesign program funded by an increase in the provider tax must look to minimize losers. Therefore, we support a tax design using non-uniform rates or targeted exemptions to minimize losers created solely by the design of the tax.
Our priorities move Illinois in the right direction to align reimbursement with best practices and research.
The HFS initial redesign proposal aligns with much of our stated priorities, and we believe we can work with HFS to design a proposal that works best for all involved but most important the residents we serve.
After the hearing, LeadingAge Illinois met with Senator Neil Anderson (R-36th District; Moline)to further discuss the proposal.  Sen. Anderson is a member of the Medicaid Work Group.  It was the second meeting we have had this week with a Work Group member on our proposal. 
HS now has a Nursing Home payments page on their website, which was discussed at our weekly rate reform meeting with the Department yesterday.  Click here to view.  
Updated CDC and CMS Guidance
The CDC released several pieces of updated guidance this week. Some general "public health recommendations" are applicable to our communities, such as travel guidance and masking. Additionally, CDC updated specific healthcare guidance. CMS released 2 revised memos (here and here) consistent with CDC's recommendations. LeadingAge Illinois asked the Illinois Department of Public Health (IDPH) yesterday in our weekly meeting about the status of their work on new guidance in response to this new federal guidance. IDPH indicated they are working on the guidance now and will need sign-off from the Governor. Although it is anticipated that the IDPH guidance will mirror federal guidance, please continue to follow current, existing IDPH guidance until they release their new guidance.
Here is a summary of the guidance:
International Travel:
International travel should be delayed until you are fully vaccinated. A negative COVID test is required for international travelers seeking entry/re-entry into the US, regardless of vaccination status. Fully vaccinated individuals are no longer recommended to quarantine upon return from international travel and are no longer recommended to be tested within 3-5 days of return from international travel. This means that staff may return to work without quarantine following international travel if they are fully vaccinated. Unvaccinated individuals must continue to quarantine for 7 days, test upon return, and avoid contact with individuals are increased risk for 14 days. This means that unvaccinated staff should be restricted from work for 14 days following international travel. More info is available here.
Masking:
The CDC is loosening recommendations on masking. In most cases, fully vaccinated individuals are no longer recommended to mask up outdoors, provided they are not in crowded outdoor spaces, like at concerts or sporting events. Unvaccinated individuals can forego the mask outdoors if they are attending small gatherings with fully vaccinated individuals or exercising (walking, running, biking, specifically). More information and a helpful infographic is available here. It's important to note that some cities/counties/states have mask mandates in place and individuals must adhere to mask mandates in those areas.
Healthcare Visitation:
Fully vaccinated individuals may now remove their masks when visiting indoors in healthcare settings (like nursing homes, inpatient hospice, and assisted living) provided both the resident and the visitor are fully vaccinated and they are alone in the resident's room or visitation space. The visitor must continue to mask around other residents, staff, and individuals in the healthcare setting.
Activities and Dining:
The CDC is loosening recommendations for masking and social distancing in activities and dining for fully vaccinated individuals. In the healthcare setting, if all individuals attending an activity are fully vaccinated, they may choose to forego masking and social distancing during the activity. If all individuals in the dining area are fully vaccinated, they may choose to forego masking and social distancing during dining. If any individuals in the activity or dining setting are unvaccinated, all must wear masks and social distance. CDC recommends asking individuals to sign up for activities/dining ahead of time so that vaccination status may be determined privately and expectations on masking and social distancing determined. We note that CDC does not recommend separate activities or separate dining for vaccinated vs. unvaccinated residents. CDC also recommends that if an individual's vaccination status is unknown, recommendations for "unvaccinated" should be followed.
Healthcare Personnel:
Healthcare personnel may follow the guidance above regarding masking and social distancing as it relates to activities such as breaks rooms/staff lounges or in-person meetings. If all present are fully vaccinated, healthcare personnel may forego masking and social distancing. If any are unvaccinated, or if vaccination status is unknown, masks and social distancing are recommended.
Testing:
Protocols for testing of symptomatic individuals and testing staff and residents in the event of an outbreak have not changed. Recommendations around "expanded screening testing" (routine testing) of staff have been changed. CDC now recommends that fully vaccinated staff may be excluded from expanded screening testing (routine testing of staff according to county positivity rates). Unvaccinated staff must continue to be tested routinely according to county positivity rates. CDC offers additional guidance that individuals who require testing due to exposure should be tested immediately and again within 5-7 days of exposure. CMS has updated regulatory guidance to be consistent with these recommendations, available here.
Clarification on Outdoor Visitation During Outbreak:
CMS updated visitation guidance in March to allow greater flexibility for visitation during outbreak under certain parameters. This prompted questions about whether outdoor visitation could continue for individuals who were on "affected units". CMS refers to CDC guidance to clarify that while individuals who are on transmission-based precautions are not permitted visitors until TBP have been discontinued, individuals who are on affected units but are not confirmed or suspected positive and who have not had "close contact" as defined by CDC may continue outdoor visitation.
CMS National Stakeholder Call Recap:
CMS hosted a national stakeholder call this afternoon to review updated CDC recommendations and corresponding revisions to CMS guidance. A recording of this call will be available here within a few days. Read the LeadingAge summary of this guidance including clarifications made on the CMS stakeholder call here. Following are some of the questions we have received lately that CMS answered on the call:
Is eye protection, such as goggles or face shield, required at all times in the nursing home? CDC guidance on PPE is available here. Full PPE, including eye protection, may be required during resident care based on resident status, outbreak status, or community transmission rates; however, CDC does not intend for eye protection to be worn outside of resident care.
Can residents on "affected units" continue outdoor visitation during an outbreak? Yes, residents on affected units may continue outdoor visitation provided they are not on transmission-based precautions due to confirmed or suspected infection or on quarantine for close contact, including new admission/readmission of an unvaccinated resident.
Is indoor visitation restricted during an outbreak if cases are isolated to staff only, and no residents test positive? Yes, indoor visitation is restricted if multiple staff test positive, even if no residents test positive. The location/assignments of staff will need to be considered in determining whether the outbreak is contained to a single space or unit.
Should fully vaccinated staff be placed on work restriction if a household contact tests positive? No, fully vaccinated healthcare personnel with "high-risk exposures" including a household contact testing positive do not need to be restricted from work unless the healthcare personnel becomes symptomatic or tests positive.
Are nursing homes required to obtain proof of vaccination of visitors before allowing unmasked/un-distanced visits? No, the nursing home does not need to obtain proof of vaccination from visitors. Asking a visitor about vaccination status is sufficient in determining masking/social distancing protocols.
If all residents in an activity/dining are fully vaccinated, but an attending staff member is unvaccinated, must the residents mask and social distance? Yes, if any individual present is unvaccinated, all must mask and social distance, regardless of whether the unvaccinated individual is a resident or a staff member.
If an individual happens to walk by an activity/dining in which masking/social distancing is not required, or enters the area but does not stay, must those present immediately mask and social distance? No, provided the individual whose vaccination status is unknown does not "congregate" in the area, such as staying to provide care or participate in the activity. If the individual with unknown vaccination status remains, all must mask and social distance. But if the individual simply walks by, or enters the area and quickly leaves again, masking and social distancing by activity/dining participants is not expected.
Can nursing homes "cohort" activities/dining based on vaccination status? Yes, nursing homes may host separate activities/dining based on vaccination status. If choosing to do so, the nursing home must ensure that they continue to comply with Resident Rights requirements.
Coronavirus (COVID-19) Stakeholder Calls 
On April 27, the Centers for Disease Control and Prevention (CDC) updated select infection prevention and control recommendations in theUpdated Healthcare Infection Prevention and Control Recommendations in Response to COVID-19 Vaccination | CDC. These updates are for healthcare personnel (HCP) while at work and patients and residents while they are being cared for in a healthcare facility, including nursing homes.
IDPH Weekly Meeting Recap
Yesterday, LeadingAge Illinois and the other associations had our weekly meeting with the Illinois Department of Public Health (IDPH) on COVID-19 issues. A couple items we discussed included:
Long Term Care Questionnaire:
IDPH stated that this Illinois Health Facilities and Services Review Board (HFSRB) annual survey questions focus on a different topic each year and this year it is COVID experiences.  It is optional to respond to these questions. 
Pharmacy Program:
IDPH has now allocated over 12,000 doses to long term care pharmacies as a part of the program.  IDPH urges providers not to cancel ordered doses as that can waste doses.  Here is an updated list of the pharmacies. 
Three-Day Stay Waiver Update
There have been several questions about the three-day stay waiver, and when it can be used. The waiver is still in effect. There is language pertaining to "impacted by the emergency" but CMS has previously clarified that beneficiaries nationwide are "impacted by the emergency" because of the national public health emergency. CMS has said that waivers are available and should be used if they are needed. The emphasis lately has been on "if they are needed" but CMS does not intend at this point for a case-by-case determination of whether or not the waiver should have been used. Remember that LeadingAge has long advocated (pre-pandemic) and will continue to advocate for dissolution of the 3-day stay rule beyond the public health emergency.
CMS Updates Memo on Long-Term Care (LTC) Facility Testing Requirements and Revised COVID19 Focused Survey Tool
CMS recently updated their memo on the Interim Final Rule (IFC), CMS-3401-IFC, Additional Policy and Regulatory Revisions in Response to the COVID-19 Public Health Emergency related to Long-Term Care (LTC) Facility Testing Requirements and Revised COVID19 Focused Survey Tool.  Click here to view the memo. 
Weekly TANs and Medicaid Pendings Update
Our consultant, Matt Werner, has provided his weekly update on Transaction Audit Numbers (TANs). Click here to access the TANs report and here for an update on Medicaid pendings. 
COVID Test Positivity by County
LeadingAge Illinois Consultant, Matt Werner of Werner Consulting, has provided his most recent update on COVID Test Positivity by County. Click here for the most recent report.
HFS Provider Notice on Utilization of the Central Scanning Unit for Long Term Care Providers Effective April 26
The Illinois Department of Healthcare and Family Services (HFS) issued a provider notice on the Illinois Department of Human Services (DHS) Utilization of the Central Scanning Unit for Long Term Care Providers Effective April 26, 2021.  Click here to view the notice.

Assisted Living:
Assisted Living Update
There have been a number of happenings on the assisted living front over the past couple weeks.  We had over 125 attendees in our virtual Assisted Living Boot Camp on which Lynda Kovarik, division chief of assisted living provided several important updates and the Illinois General Assembly has legislation before them impacting assisted living.  This week, the LeadingAge Illinois Assisted Living Cabinet met to discuss these issues and more. 
Here is a current update on assisted living issues:
Data:
There are currently 526 assisted living and shared housing establishments in Illinois with 26,764 units. (California, Florida, and Texas have largest number of establishments). 
There are 14 pending licensure
The Division of Assisted Living has 14 staff. 
Due to the increase in communities, the Illinois Department of Public Health (IDPH) is looking to increase licensure fees. 
Top 10 Violations:
Legislation:
SB191 (Prohibits Gifts from Residents)
This bill is not moving forward. 
Bill would have directed assisted living establishments to institute written policies and procedures regarding the acceptance of personal gifts from a resident or the family member of a resident.
It would have required assisted living establishments include in all employment contracts a provision that prohibits acceptance of a monetary gift from a resident or the family member of a resident, which shall also notify the employee of the need to enter into a repayment agreement to recoup the value of any gift accepted by staff from a resident or the family member of a resident that is not returned promptly.
Further said that when the employee agrees to and signs a repayment agreement, the assisted living establishment shall be permitted to withhold up to 15% of the employee's wages per paycheck, or a higher amount from the employee's final compensation, until the employee has paid back the full value of the monetary gift.
SB272 (Water Quality Assurance Act)
LeadingAge Illinois opposes this legislation   
IDPH initiative
Assisted Living communities shall develop and implement water management programs to control the growth and spread of opportunistic pathogens.
Requires routine culture sampling plan for all building water systems.
The Illinois Department of Public Health (IDPH) or agent health departments may enter at reasonable times for the purpose of inspecting and investigating conditions.
Section 45. Fee schedule. A fee schedule for fees assessed by the Department for a health care facility shall be established by rules adopted by the Department.
Section 60. Civil enforcement. The Department may impose administrative civil penalties for violations of this Act and rules adopted under this Act.
Section 65. Civil penalties. Any person who violates any provision of this Act or any rule adopted under this Act shall, in addition to any other penalty provided in this Act, be subject to a civil penalty of $100 per day per violation.  
SB1096 (Insurance Coverage of COVID Testing)
LeadingAge Illinois is neutral on this legislation specifically due to the sunset date of January 1, 2022. 
Allows for insurance coverage for COVID-19 diagnostic testing for assisted living and supportive living employees (previously was only nursing homes)
SB2432 (Grocery Tax)
LeadingAge Illinois supports this legislation as a public policy priority.
Extends the 1% rate of tax to food prepared for immediate consumption and transferred incident to a sale of service at a facility subject to the Assisted Living and Shared Housing Act or the Life Care Facilities Act.
Passed the Senate 58-0 on April 23. 
State Representative Kelly Burke (D-36th District; Oak Lawn) has become the house sponsor. 
For the latest updates and information, visit the LeadingAge Illinois Advocacy Center.
If you have any questions, contact Jason Speaks. 
IDPH Extends Rules on Infection Control and Testing
The Illinois Department of Public Health (IDPH) has adopted emergency rules for assisted living and sheltered care communities, effective April 18 for 150 days.   These rules, which replace previous emergency rules that were effective November 19 and expired April 17 establish and clarify IDPH's infection control policies in relation to the COVID-19 pandemic for communities (parallel emergency rules for skilled nursing homes are currently in effect). 
Each community must maintain written infection control policies and procedures on site and make them available upon request to residents, their families and/or their representatives, staff (which includes employees, contractors and volunteers), IDPH and the certified local health department. These emergency rules also list the specific Centers for Disease Control and Prevention (CDC) guidelines for COVID-19 testing and infection control to follow.
If a resident or staff member of tests positive for COVID-19, all residents and staff must be tested.  Those who do not test positive must be retested every three to seven until no new cases are identified. If there are no active cases, staff must be tested at least twice a week if the county's testing positivity rate for COVID-19 is above 10%, once a week if the positivity rate is between 5% and 10%, and once a month if the positivity rate is below 5%.
Technology:
Health Subcommittee Hearing on "Charting the Path Forward for Telehealth"
This week, the U.S. House Ways and Means Health Subcommittee held a hearing on "Charting the Path Forward for Telehealth." Health Subcommittee Chairman, Lloyd Doggett (D-TX), highlighted how telehealth has been prominently used during the pandemic, and the hearing provided an opportunity to determine how telehealth will be preserved. Chairman Doggett also reiterated how the under the Medicare program, telehealth's transformation was made possible thanks to waivers granted by CMS which covered 144 telehealth services during the Public Health Emergency. This flexibility allowed for a rapid and prolific expansion of services for 24 million Medicare beneficiaries last year from mid-March to mid-October, alone. With CMS telehealth waivers currently extended through year end, the Subcommittee is beginning to address putting a plan in place to assure no abrupt suspension. The full Ways and Means Committee is also expected to markup several telehealth proposals that have been put forward by several of the committee's members. An article providing additional information on the hearing will be available soon.
CONNECT Telehealth Legislation
The CONNECT for Health Act has the support of more than 150 stakeholder organizations including LeadingAge and LeadingAge CAST. The CONNECT for Health Act was first introduced in 2016 and is considered the most comprehensive legislation on telehealth in Congress. Since 2016, several provisions of the bill were enacted into law or adopted by the Centers for Medicare & Medicaid Services, including provisions to remove restrictions on telehealth services for mental health, stroke care, and home dialysis. The updated version of the CONNECT for Health Act builds on that progress and includes new and revised provisions that will help more people access telehealth services. A summary of the bill and the full list of endorsing organizations are available here.  
Specifically, the legislation will:
Permanently remove all geographic restrictions on telehealth services and expand originating sites to include the home and other sites;
Revises a policy regarding the use of telehealth in recertification for hospice care, to reflect the statutory language being temporarily authorized during the pandemic for face-to-face recertification. It also requires a GAO report evaluating the appropriateness of patients recertified through the use of hospice;
Require a study to learn more about how telehealth has been used during the current COVID-19 pandemic;
Allow health centers and rural health clinics to provide telehealth services, a provision currently in place due to the pandemic but on a temporary basis;
Provide the Secretary of Health and Human Services with the permanent authority to waive telehealth restrictions, a provision currently in place due to the pandemic but on a temporary basis; and
Allow for the waiver of telehealth restrictions during public health emergencies.
Other:
Member Spotlight: Christian Horizons
Christian Horizons, formerly Christian Homes, was founded in 1962 in Lincoln by community leaders representing independent churches wanting to serve those in need.  Today, Christian Horizons has 10 care communities in four states providing short-term rehabilitation, assisted living, memory care, long-term care and independent living. 
Additionally, they operate Carelink, a private-duty home care agency with multiple locations in Illinois, Safe Haven Hospice, and Senior Care Pharmacy Services.  They will be opening New Horizons Living, Missouri's only PACE (Program for the All-Inclusive Care for Elderly) in 2022.
Throughout the years, Christian Horizons has been a leader within the association with a number of representatives on LeadingAge Illinois committees and the Board.  One of those leaders is Ray Dickison, chief operating officer.  He has been in this profession since 1995.  Coming from a family with numerous health care roles, he said he was drawn to serve in the same field. He studied health care management and tailored his college education to post-acute and senior living services.
"I have been fortunate to serve so many wonderful residents with so many amazing colleagues.  I chose many years ago to work within faith-based organizations.  When the people and the organization are working together faithfully to create the experience that a person needs, it is a great source of pride and motivation," said Ray.
Since joining the organization Ray right away was involved in advocacy and has been a part of LeadingAge Illinois legislative meetings in Washington, D.C., and Springfield.  He also shared his vision for the future of aging services.  "My vision for our ministry is to grow in creative ways to continue to provide excellent services in relevant ways.  In the short term, our vision has to be bold and we have to apply well the lessons we have learned and are learning in navigating the pandemic," said Ray.  "For our field, we need to take this opportunity to more clearly show how important and impactful that our work is for so many."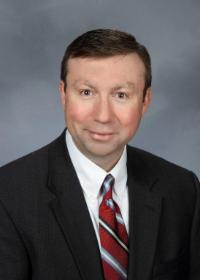 Pictured Above: Ray Dickison, chief operating officer at Christian Horizons.