From the Desk of Angela Schnepf, President and CEO
Top Stories:
Partners in Quality Visit Held with House Speaker
SNF and Hospice Quality Reporting Program
Help Set the LeadingAge Illinois 2022 Public Policy Priorities
Impending Deadlines
Supportive Living:
Updated SLP Cost Report and Instructions Documents
Assisted Living:
Release the Provider Relief Funds Campaign
Argentum Statement Supporting Employer Mandates for Vaccinations and Conference Announcement
Nursing and Rehabilitation:
CDC Requesting Vaccine Access Information
New Training Available from CMS for SNF Providers
Details on Project ECHO Payments to Participating Nursing Homes
Elder Justice Reauthorization Bill Introduced

Independent/Subsidized Housing:
HUD Readies Service Coordinator Grant Funds
Landlords Urged to Apply for Rental Help
HUD Makes Eviction Moratorium Penalties Clear; Data Show Risk of Eviction for Older Adults
Other:
IDPH to Highlight Member for Vaccination Success
IDPH Launches Online 'Vax Verify' System
Telligen Virtual Learning

From the Desk of Angela Schnepf, President and CEO
I have a couple of important updates today to share with you.
As we reported via member alert and listservs, the Illinois Department of Public Health (IDPH) recently issued their Updated Interim Guidance for Nursing Homes and Other Long-Term Care Facilities Incorporating New Masking Requirements. The summary of guidance changes since July 28, 2021 release are listed on page 1 and are highlighted in red throughout the document. There are also recommendations regarding newly admitted and readmitted residents.
Also on the federal infrastructure front, the U.S. Senate passed the Concurrent Budget Resolution (S. Res. 14) on a party-line vote (50-49). This lays the groundwork for the development of a $3.5 trillion care infrastructure bill that is expected to pass under reconciliation, requiring only majority support in the Senate.
LeadingAge is advocating for:
the full $400 billion for HCBS,
approximately $55 billion for an FMAP increase for nursing homes,
$7.5 billion for low income senior housing, and
$1 billion for workforce development and support, along with expansion of Medicare to include dental, vision and hearing benefits, expanded access to affordable child care that will help support our workforce, among other provisions.
The resolution directs House and Senate committees to develop legislation by September 15. The House is returning early from August "recess" to vote on the budget resolution and also begin work on concurrent legislation. LeadingAge Illinois will continue to assist in advocacy efforts at the federal level in coordination with LeadingAge National and Argentum. I wanted to make you aware that advocacy alerts may be coming your way soon. I know that one of the greatest strengths has always been our member grassroots advocacy. Please act on alerts as you receive them and make our collective voices heard. Your stories matter and have an impact.
Kindest Regards,
Angela
Top Stories:
Partners in Quality Visit Held with House Speaker
Ascension Living Bethlehem Woods in LaGrange Park hosted the Illinois House Speaker, Emanuel Chris Welch (D-7th District; Westchester) this week for a visit. Speaker Welch has visited the community previously a number of times, but this was the first visit for him as House Speaker.
Speaker Welch was hosted by Elliot Triplett, regional executive director at Bethlehem Woods, Carla Brown, market vice president of operations at Ascension, and Michael Gordon, CFO at Ascesion. Jason Speaks, director of government relations at LeadingAge Illinois represented the association at the visit. Welch spoke about a variety of legislative issues the Illinois General Assembly faced in the last legislative session and his overall plans for the coming session. The visit was also an opportunity for us to share information about priority issues such as increasing Medicaid rates to account for improved staffing and increasing staff wages.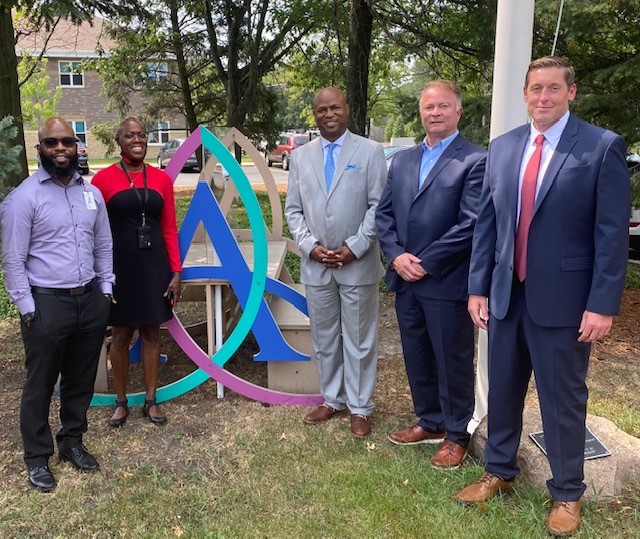 Pictured Above (left to right): Elliot Triplett, regional executive director at Bethlehem Woods, Carla Brown, market vice president of operations at Ascension, Illinois House Speaker Emanuel Chris Welch, Michael Gordon, CFO at Ascension, and Jason Speaks, director of government relations at LeadingAge Illinois.
SNF and Hospice Quality Reporting Program
A reminder to skilled nursing facilities and hospices that received July notices that they are considered non-compliant with their respective Quality Reporting Program requirements, the deadline to request reconsideration of this status is Friday, August 13 at 10:59 p.m. CST. Do not confuse this deadline with deadlines to report first quarter 2021 data. Remember non-compliance will result in a 2% annual rate reduction beginning October 1, 2021. Here is an article on these non-compliance notices.
Help Set the LeadingAge Illinois 2022 Public Policy Priorities
The LeadingAge Illinois 2022 Public Policy Priorities Member Forums are your opportunity to provide input and help us set our 2022 Public Policy Priorities. In these free, one-hour virtual forums LeadingAge Illinois staff will provide a recap of the spring legislative session, a landscape for the 2022 session, and provide other information and updates to give you the background needed to help us identify the top legislative priorities for the next year. Please come prepared to discuss your challenges and suggestions on how we can have a stronger impact in your day-to-day operations, and more.
Member Forums (all virtual):
Assisted Living
Tuesday, August 17
10-11 a.m.
Register Here
Housing Forum
Tuesday, August 24
10-11 a.m.
Register Here
Supportive Living Forum
Wednesday, August 25
10-11 a.m.
Register Here
HCBS Forum
Tuesday, August 31
10-11 a.m.
Register Here
Nursing Facilities Forum (COMPLETED)
Thursday, August 5
10-11 a.m.
Life Plan Communities/CCRC Forum ( COMPLETED)
Thursday, August 12
10-11 a.m.
You can also submit your feedback and recommended priorities via e-mail. Let us know the burdens and challenges that are impacting your community as well as potential legislative/regulatory remedies that can remove them.
Impending Deadlines
We want to remind you of upcoming deadlines. Check here each newsletter for updates.
August 13 at 10:59 p.m. CST: For skilled nursing facilities and hospices that received July notices that they are considered non-compliant with their respective Quality Reporting Program requirements, the deadline to request reconsideration of this status August 13.
August 20: Submit Comments on OSHA Emergency Temporary Standard. Deadline has been extended until August 20.
August 30: Funding of $103 Million from American Rescue Plan Dedicated to Reducing Burnout and Promote Mental Health in the Health Care Workforce. Applications for each of the funding opportunities are due August 30.
Supportive Living:
Updated SLP Cost Report and Instructions Documents
The Illinois Department of Healthcare and Family Services (HFS) has posted Updated SLP Cost Report and instructions documents here.
Assisted Living:
Release the Provider Relief Funds Campaign
Argentum, AHCA/NCAL, ASHA, and LeadingAge jointly sent a letter to President Biden, HHS Secretary Becerra, and HHS Deputy Secretary Palm urging for the immediate release of the remaining provider relief funds to long-term care providers. They stressed that providers have been anticipating the Phase 4 relief payments for months, and directed the Administration to make funds available in full and as quickly as possible.
Argentum also began a five-week campaign encouraging the administration to "Release the PRF" (see press release). The funds had been jeopardized in the negotiations over the bipartisan infrastructure package, but because of your combined unprecedented outreach, Congressional support was secured to prevent the reallocation of funds. With the Senate's passage of the infrastructure package, and as it next heads to the House, the associations will be vigilant to ensure these relief funds remain available as they were intended and will be shifting our message to "Release the PRF".
The Argentum August Campaign: Release the Provider Relief Fundhas begun and you can see full campaign details here. You can help amplify the message through three actions: emailing the administration, using social media, and through the grassroots platform:
Send an email directly to administration officials, sharing the coalition letter and the urgent need for relief to your communities. Emails should be sent to: Austin Butterworth, director of private sector engagement at the White House Office of Public Engagement; Carissa Smith, senior advisor at the White House Office of Public Engagement; Rose Sullivan, principal deputy assistant secretary at HHS; and Leslie Zelenko, senior advisor and congressional liaison at HHS.
Tweet at the administration and Congress, using our sample tweets and tagging your elected officials (replace the highlighted text with twitter handles).

Week 1 for Congress: @[Member of Congress] Thank you for protecting the Provider Relief Fund! Assisted living caregivers, who serve the population most vulnerable to COVID, desperately need this relief. Seniors & their caregivers hope that you will ask [@POTUS/@WhiteHouse/@HHSGov/@SecBecerra] to immediately #releasethePRF

Week 1 for Administration: The remaining Provider Relief Fund must be allocated to assisted living caregivers, who serve the population most vulnerable to COVID! Seniors & their caregivers desperately need this relief and are asking [@POTUS/@WhiteHouse/@HHSGov/@SecBecerra] to immediately #releasethePRF

Use this grassroots platform to send messages to the administration and Congress. Pre-written messages are available and it takes less than a minute to contact policymakers (only need to input your name and address).
Argentum Statement Supporting Employer Mandates for Vaccinations and Conference Announcement
Argentum released a statement supporting employer mandates of COVID-19 vaccinations for the senior living workforce. The Argentum Board of Directors voted unanimously in support of this action on Thursday, August 5. With this statement, they are following the lead of many senior living providers (at least 40 have already mandated COVID-19 vaccines for their employees).
As part of this effort, they have also sent a letter to the CDC that outlines the support needed as an industry to help providers continue to keep residents and staff safe; this includes reconstituting the Pharmacy Partnership for Long-Term Care to prepare for the need to administer subsequent doses of the COVID-19 vaccine to residents and staff, as well as ensuring that the CDC's Advisory Committee on Immunization Practices recommendations are again followed to prioritize seniors and caregivers for those doses in senior living, and that independent living communities previously excluded from the program should be prioritized and included moving forward.

They will also be requiring verification or proof of COVID-19 vaccination for their 2021 Senior Living Executive Conference & Expo in Phoenix, September 13-15. This action was also approved by the Argentum Board of Directors on Thursday, August 5.
Nursing and Rehabilitation:
CDC Requesting Vaccine Access Information
The CDC sent an email blast to NHSN users recently requesting information on vaccine access. This information is reported through the required weekly reporting for nursing homes on both the resident and staff vaccine reporting sections (Table of Instructions for this reporting available here). CDC is urging providers to review and report this information as accurately as possible in order to assist CDC is identifying where vaccine shortages or access issues exist. If you are having issues with vaccine access, please be sure to report this on your weekly reporting and reach out to your local or state public health.

Back to top
New Training Available from CMS for SNF Providers
The Centers for Medicare & Medicaid Services (CMS) is offering a web-based training course that provides an overview of the assessment and coding of K0200: Height and Weight and K0510: Nutritional Approaches. This 30-minute course is intended for providers in Skilled Nursing Facilities (SNFs) and is designed to be used on demand anywhere you can access a browser. The course includes interactive exercises to test your knowledge related to the assessment and coding of K0200 and K0510. Click here to access the training. If you have questions or need additional information regarding the logistics of this training session, please email the PAC Training mailbox.
Details on Project ECHO Payments to Participating Nursing Homes
Project ECHO invoices are being processed now. Nursing home providers who participated in Project ECHO cohorts, qualify for payments, and have questions should reach out to their training center to make sure they have documentation of the provider's participation. Each training center has a list of its participating nursing homes, including what stage of the compensation process they are in and what, if anything is still needed from the provider. The reports are updated every Monday and Wednesday. Alternatively, providers can write to the ECHO nursing home box to check on their status. Project ECHO staff are actively reaching out to those who have not yet signed contracts and those who have a contract but need to send in final documentation and invoicing.
Elder Justice Reauthorization Bill Introduced
The Elder Justice Reauthorization and Modernization Act of 2021 (S. /H.R. ) was introduced recently at the federal level. This bill contains five major sections:
Nursing Home Worker Training Grants. ($1.6 billion over four years actually available to all non-RN healthcare/personal care staff in all Medicare/Medicaid LTSS settings and home-based), administered through the states and tribal governments, providing grants for wage subsidies, child care, transportation, legal assistance, employer subsidies for paid leave, etc., designed to support recruiting and retaining workers.
Medical-Legal Grants. ($500 million over four years) to states and tribal organizations to develop "evidence based approaches to establishing or improving linkages between health and social services", creating medical-legal partnerships, elder abuse hotlines, etc. (LTSS providers are not listed as eligible grantees to develop/administer/support these programs, and this will be one area where we will advocate to include our members, as the goal here is similar to the legal services component in the elder abuse shelter programs pioneered by LeadingAge members).
Grant Program. ($250 million over four years) to assist AAAs and community based organizations (which we interpret to include LeadingAge nonprofit members) to address social isolation among vulnerable older adults and adults with disabilities.
Funding for Adult Protective Services. ($1.4 billion over four years) and for training and other supports for the LTC Ombudsman program ($175 million over four years).
LeadingAge issued a press release supporting the bill shortly after it was introduced.
Back to top

Independent/Subsidized Housing:

HUD Readies Service Coordinator Grant Funds
HUD is processing grant renewals for the more than 1,400 HUD Service Coordinators who receive their funding on a calendar-year basis. On August 9, in the eighth month of calendar year 2021, HUD staff joined a call of LeadingAge's Housing Advisory Group to discuss the disbursement of the grant funds. HUD staff noted staffing problems that caused this year's grant delays and provided a status update on the approximately $100 million HUD is distributing for grant-funded Service Coordinators. HUD recommends grantees check GrantSolutions each day, beginning August 11, to see if their award is ready for acceptance. To read more, including about potential additional delays in funding, see this LeadingAge article.

Back to top
Landlords Urged to Apply for Rental Help
The Consumer Financial Protection Bureau is urging impacted landlords to apply for Emergency Rental Assistance. The CFBG gives for reasons landlords should apply: tenants may need your help to apply; if your tenants are eligible for the program, you're eligible; rental assistance can cover up to 18 months of rent; and, there's still time to apply and receive help. For more information, see the CFBP's ERA resource page.

Back to top
HUD Makes Eviction Moratorium Penalties Clear; Data Show Risk of Eviction for Older Adults
HUD's Office of Multifamily Housing has updated its Questions & Answers document for COVID-19 to reflect the CDC's eviction moratorium for counties with heightened levels of community transmission until October 3. The updated Q&A points housing providers to the CDC's August 3 order and adds one new question: What are the penalties for a landlord, owner of a residential property, or other person with a legal right to pursue an eviction or a possessory action violating the CDC Order? The answer refers providers to the CDC's Order and the Declaration form itself, which describes both monetary finds and jail time. Meanwhile, the Census Bureau's latest survey shows a very fragile housing situation for 32% of the nation's unassisted older adult renters. For more information, see this article.
Other:
IDPH to Highlight Member for Vaccination Success
The Illinois Department of Public Health (IDPH) will be highlighting providers who have had success in vaccinations to keep staff and residents safe from COVID. Clark-Lindsey Village in Urbana will be one of the first highlighted by the Department, recognizing their hard work and success.
The community has approximately 270 employees. "We made the COVID-19 vaccine mandatory for employees on our campus," said Rikki Brady, vice president of health services/administrator at Clark-Lindsey. "Employees were notified in May and had until August 1, 2021 to be vaccinated. Currently, 100% of our residents in our Health Center and Green House Homes are vaccinated and 94% of our staff are vaccinated."
LeadingAge Illinois joins the Department in congratulating Clark-Lindsey on their success.
IDPH Launches Online 'Vax Verify' System
The Illinois Department of Public Health (IDPH) is launching a new immunization portal, Vax Verify, that will allow Illinois residents 18 years and older to check their COVID-19 vaccination record. Vax Verify can be accessed here.
Telligen Virtual Learning
Telligen continues to offer virtual learning sessions and informative events to support nursing home providers.
Long Term Care Office Hours Webinar. September 1 at 3 p.m. CST. Let's Try Something New: Promoting COVID 19 Vaccine Confidence Now with Dr. Leslie Eber, voted Medical Director of the Year by AMDA – The Society for Post-Acute and Long-Term Care Medicine. This interactive event is for nursing home leaders struggling with new ways to promote vaccination confidence with staff. Register here
Trainings to support Directed Plans of Correction. Weekly Root Cause Analysis Trainings every Tuesday from 10:30-11:15 a.m. CST and Plan-Do-Act-Study (PDSA) trainings every other Wednesday from 11a.m.- 12 p.m. CST. Register here
NHSN Assistance for questions with enrollment and COVID-19 Data submission. Email here.